7 Healthy Snack Subscription Boxes to Gift or Enjoy!
Find some great ideas on Healthy Snack Subscription Boxes to gift from Cratejoy. They are the only Subscription Box marketplace so you can do one stop shopping and and find a great subscription box for pretty much everyone you love.
Just think how nice it would be for someone to receive a box of healthy snacks like delicious trail mix or a box of raw goody snacks, perfect when the munchies strike.
I've included special boxes just like that in this list. So let's countdown and help you find an awesome gift for someone.
Join now and get 60% off a Club membership. That's only $20! Limited time offer.
7. Healthy Me Living
Giving a gift to someone who has decided to start making healthier eating choices? First up is this subscription box, HealthyMe Living Subscription Box. These awesome snacks are curated by a certified health coach and include 7 to 10 yummy, healthy snacks in your box each month.
This subscription box ships out from the USA to select countries so check the details. And did you wait until the last minute? Get fast shipping for free so your gift recipient gets their box in 5 days.
What comes in a box: 7 to 10 Healthy Snacks
Click here to purchase a box and and find a great deal when you purchase more than one month
6. SnackSnack
Next up is SnackSnack Monthly Subscription Box, a healthier snack box filled to help you can make smarter choices when the munchies strike you. They offer you three different plans with a Classic, Vegan, or Gluten Free option so those with allergies or food sensitivities are also covered. Each shipment is coordinated around the seasons which is an awesome idea! And each monthly box contains between 11 and 15 yummy smart snacks delivered to you via USPS Priority. Sorry world USA shipping only.
What comes in a box: 11 to 15 snacks
Click here to purchase this box.
5. Sweet Satisfaction
Who says eating better means you have to cut out the sweets? The Sweet Satisfaction Subscription box features sweets that are free from the ingredients that can take a toll on your system (sorry sugar is still in these). No need to go hunting because it's really nice when someone does all the hard work for you so you can just enjoy.
The Sweet Satisfaction subscription box hits the spot with a 100%…
Gluten Free
Dairy Free
& Vegan-Friendly sweets
Each Sweet Satisfaction Subscription Box is delivered right to your door and filled with sweet delights like caramels, chocolate, and other candies. Your recipient will receive a Priority Shipping box with treats that are made in the USA. And this delightful box ships worldwide. Wahoo!
What comes in a box: Chocolates, truffles, etc.
Click here to purchase this box.
4. Num-Nums Munch Box
Here's a great healthy snacking box for those with food allergies and sensitivities. Num-Nums is a snacking focused allergy and diet friendly subscription box where you get to pick the size of box you want! You'll get a bit of tasty AND sweet in this box! That's great if you're gifting to a family or a couple that has different tastes (Thinking of myself here. My husband likes salty and I like sweet. You know in case you need to know this fact.)
There are a few levels to choose from whether you want to gift just a few tasty tidbits or a whole bunch. You can also select whether you want Gluten Free, Dairy Free, Nut Free, Top 8 Allergen free (yes please!), or Vegan. Check details to see whether Num-Nums delivers to your country (ships from USA).
What comes in a box:
Mini Box: 5 snacks
Single Box: 10 to 12 snacks
Double Box: 20 to 24 snacks
Click here to purchase this box.
Need more allergy friendly treat ideas? Check out my soy free chocolate list.
3. Gluten Free Masters
Number three on my list curates snacks that are free of gluten. An ingredient that can give some people lots of trouble. Imagine a box of 20 or more gluten free goodies arriving at your loved one's door. I can just hear the squeal! This is an awesome gift of course and Gluten Free Masters will ship such a delight worldwide to your gluten free and celiac disease loved ones.
Each box comes with 20 or more gluten free goodies. Oh my goodness! Get a 6 or 12 month subscription so they will be really really happy! You can't pass that up. And Gluten Free Masters ships worldwide so location doesn't mean you have to miss out! Thank you very much!
What comes in a box: 20+ Gluten Free Snacks
Click here to purchase this box.
2. Baby Eden Bundles
The number two spot goes to an awesome box to give to the expecting moms in your life. Baby Eden Bundles delivers snacks, and vitamins to your pregnant mommy friend. Approved by a nutritionist and doctor you can customize these boxes for food allergies and diets. This awesome box ships worldwide from the USA.
What comes in a box: Healthy Snacks for expecting and new moms.
Click here to purchase this box.
1. Ten Thousand Cookies
And now let's talk about who made Numero Uno on my list.
People are cutting gluten out of their diets and finding better health as result. But does that mean no cookies? Bite your tongue! Thank you creative bakers who are creating gluten free delights! Imagine getting 12 Gluten free cookies each and every month to satisfy your cookie craving!
The Greenos of Ten Thousand Cookies created this subscription box service to help them adopt a baby! This amazing couple bakes up batches of sugar, vegan chocolate chip, and monster cookies that are all gluten free. It's an amazing feat and I love that it's a family affair. You can read about the Greenos and their amazing journey in this Spotlight Post and subscribe to Ten Thousand Cookies here.
What comes in a box: 12 Gluten Free Cookies.
Click here to purchase this box.
This is by no means the end of the list. Find many more Healthy Snack Subscription boxes at CrateJoy!
In this new era of discovering how much your diet can affect your wellbeing more companies are listening to the people's cries. More and more better for you options are on the shelves and a Healthy Snack Subscription Box is a great way to introduce us to these handpicked products. I don't know about you but I only have so many hours in a day to scour the shelves looking for diet friendly goodies. What if they came to your mailbox instead?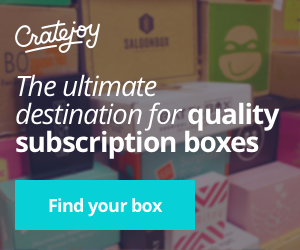 I hope you've enjoyed this roundup of yummy, smarter snacking subscription boxes to send to your friends and family. Trying to find the perfect gift isn't always easy. The key is to buy something for someone that they might not splurge on for themselves.
~Enjoy