Create a Custom Gift This Season with Zazzle
It get's harder and harder every year to find unique gifts for those special people in your life. You want some thing that says you, that says them, and is remembered for years to come.
Why not be creative this year and get your gifts from Zazzle?
I love shopping (and creating) at Zazzle because you can design for your own personal style. The inventory changes constantly and you can get just the look you want.
Recently I discovered that Zazzle has a Maker's section. Here you still get to pick your colors and words but these items are created by various companies that also create and produce.
These items are a leettle bit more cool than the regular items on the Zazzle site and make you stand out in a crowd.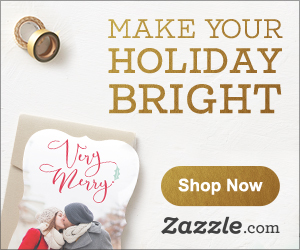 Shop the Zazzle Maker's Section for some great gifts with even more style.
Here are just some of the unique gifts you can find in the Maker's section.
Dynomighty: Dynomighty wallets are made from Tyvek a tightly woven material which makes a thin (almost) tear proof, waterproof wallet. I opted for one of this with a simple reference to scripture for hubby.
Beltcraft: Belftcraft offers full grain leather belts in 30 colors you can design just the look you want for that special someone.
Words with Boards: Custom wood cutting boards and serving trays. You can have your own custom saying carved right into the board! How cool is that?!
Dodo iPad Air Case: I love the designs people are putting on these. So
lovely. A chic way to protect your iPad Air.
This holiday season Zazzle asked me to shop around and find some good gifts to hand out to friends and family.
I have/had some birthdays coming up (they've come and gone) so I figured it was a good time to gift some special people.
I had a really hard time making some decisions and I actually am going back to get some more stuff but here's what caught my eye so far.
My husband goes through wallets like water so when I saw that I could get him a Dynomighty wallet (from the Maker's Section) with a custom imprint on it I thought that would make a sweet gift for him.
Dynomighty wallets are made from Tyvek material and said to be able to pack more stuff in them than other wallets. The wallet is made from a woven fabric like material and is very light.
My husband has started using his but he's being really delicate about it and hasn't stuffed it like his usual self.
Next up I also picked up a little bluetooth Bumpster speaker as the perfect gift for those who want to listen to some music or audio books from their smart phones on the go. This little baby (it's really cute and small) puts out a good sound and is small enough to be a bit portable. Customize the face for a unique look.
These are just two of the many items you can find on Zazzle.com. If you don't feel creative enough there is plenty of talent to be found and surely someone that creates in a style you enjoy.
And don't forget to check the ever changing coupon deals on Zazzle!
Connect with Zazzle on social media

Disclosure of Material Connection: I received these items free from Zazzle as part of their Blogger Affiliate program. I was not required to write a positive review. The opinions I have expressed are my own. I am disclosing this in accordance with the Federal Trade Commission's 16 CFR, Part 255: "Guides Concerning the Use of Endorsements and Testimonials in Advertising."