A+ Tutorsoft Interactive Math Program. A Schoolhouse Review
Math, like many children, can be rather difficult for my daughter. While she enjoys the challenge of it and is sooo excited when a concept becomes clear there are still some hurdles such as subtraction and word problems that give her grief.
We got to review A+ Tutorsoft's Interactive online Math Curriculum for the 2nd Grade from A+ Tutorsoft, Inc . I was really excited to do this review because I wanted to see if it would help the Sweet Peanut's confidence in math.
psst. A+ Tutorsoft also has another product to help close learning gaps in math. Check out our review of that product here >>> A+ Tutorsoft Adaptive Placement.
Join now and get 60% off a Club membership. That's only $20! Limited time offer.
About A+ Tutorsoft Interactive Online Math Curriculum
A+ Tutorsoft's Interactive online is available to subscribe to in several increments.
as a monthly subscription for only $19.95
quarterly for only $49.99
or a full year for only $124.99
The Interactive math courses are available from 1st Grade through Algebra (AKA 8th Grade). The curriculum is designed to fill most state requirements.
The program is used entirely online and you will need to register to use it. Once you have set up your account you will then need to register your child.
Since our daughter was in Second Grade we were given the Second Grade program to review.
In this program, as the parent you are the administrator so once you are set up then you create a login for your child. When your child first logs in there is a list and little folders on the left hand of the topics covered during the school term.
The folders are like little Units and when you click on them they drop down to show each individual lesson. We try to do one of the lessons each day and also take the tests at the end of each lesson.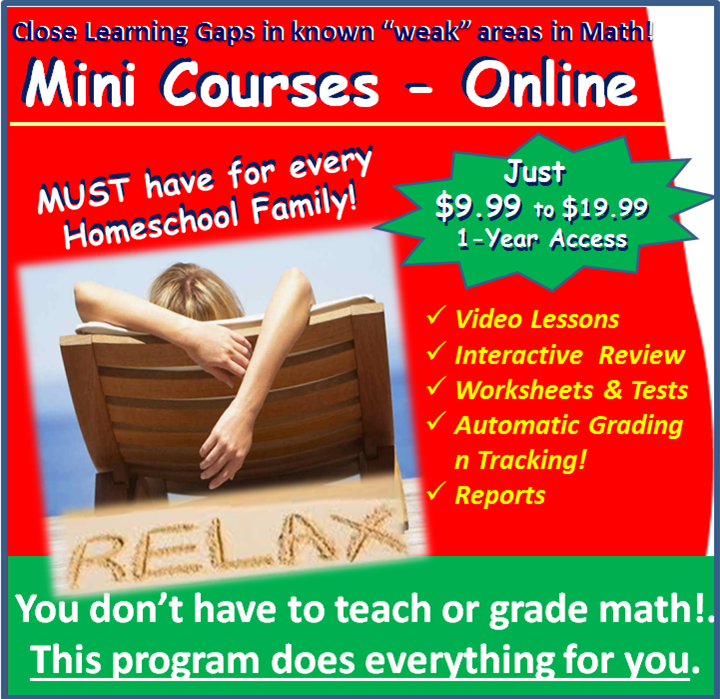 For the 2nd Grade Program there are 15 units covering…
Counting and Identifying Numbers

Place Value and Number Combinations
Naming, Comparing and Arranging Numbers
Addition
Subtraction
Multiplication
Division
Rounding and Estimating
Fractions
Tables, Charts, and Graphs,
Algebra
Geometry
Time
Money
Measurements
The A+ Tutorsoft class are online interactive lessons. After each lesson there is a prompt to take your child to an interactive worksheet which will test their learned skills. Since the worksheet is interactive if the answer is wrong it will tell your child and ask them if they need to review that section of the lesson. After the interactive Q&A you are then to do an automated worksheet. Here there is no prompt if the answer is wrong but at the end of the worksheet is a printable review page that shows how many are wrong etc.
At the end of the unit there is an online exam for your child to take. For our second grade class Peanut was given 50 minutes to take the exam (she finished in 15).
You also have the option of printing the worksheets and exams for doing the work the old fashioned way. And the curriculum is in ebook for you to print also.
This is an example of how an online session would look.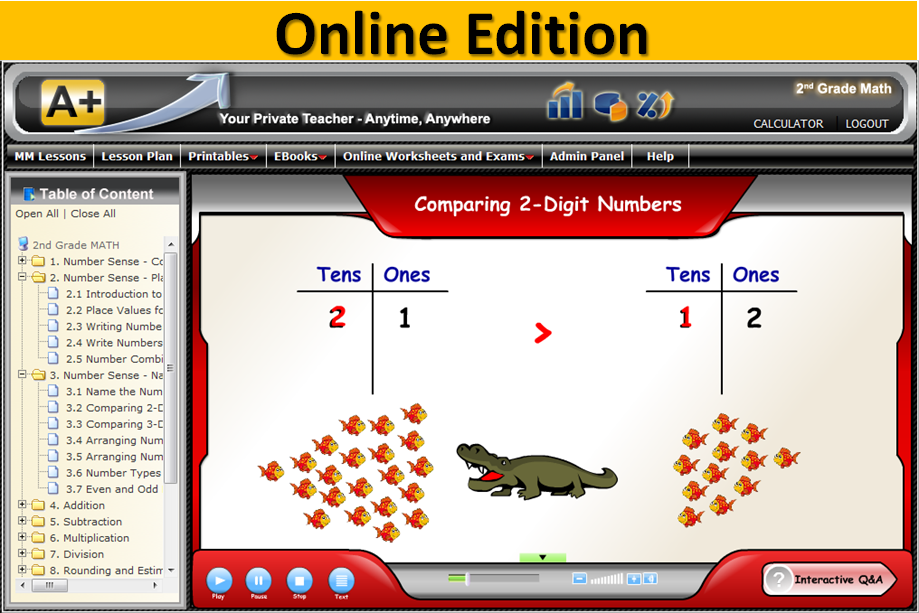 How we are using it:
Initially, I tried to start in the program where we already were in our Math program, which was studying Money, but that was a mistake. It is a nice option to be able to do that though just in case your child is further along or what have you. The section where I tried to start was near the end of the term for A+ Tutorsoft and in order to complete it Peanut would have had to know and have mastered the previous units which she hadn't yet covered in her regular curriculum.
So we backed up and started at the beginning even though we had already reviewed that.
This was a good move. Peanut is able to log in and do this on her own so that is what she does each morning.
So this is how her sessions look. We used this product 5 days a week before her regular school day started.
Watch the lesson

Answer the interactive review questions
Complete the online worksheet
At the end of the interactive review questions and the online worksheet Peanut gets a screen that tells how she did. We can go back and redo problems but once you finalize a worksheet that's it.
How we like it:
We have really enjoyed using A+ Tutorsoft Online Interactive Math Lesson. We were already halfway through a math curriculum but there were still some rough spots I wanted to go back and revisit. I had planned to that this summer but A+ Tutorsoft has made it possible to do during our regular school year. It has made math painless and fun. The interactive lessons give Peanut instant feedback on how she is doing. And she is able to relearn some concepts in a slightly new way. It's something she can hop on the computer and do on her own which is a plus for mom. I would like to purchase this for future grades.
Purchase an online subscription for A+ Tutorsoft here
Click the button below to read more reviews from the Schoolhouse Review Crew

Disclaimer: I received a free copy of this product through the Schoolhouse Review Crew in exchange for my honest review. I was not required to write a positive review nor was I compensated in any other way. All opinions I have expressed are my own or those of my family. I am disclosing this in accordance with the FTC Regulations