English Grammar with Editor in Chief Level 1a Homeschool Review

We recently started to supplement our English Grammar classes these past several weeks reviewing Editor in Chief Level 1 by The Critical Thinking Co.
My daughter does fairly well in her English course.  And while we enjoy our current curriculum I thought that adding a little something to make it a little more fun rather than rote might be a little  interesting for her.  After reading the synopsis on Editor in Chief Level 1 I decided it might fit the bill and would be something I would like to review.
Editor in Chief Level 1  is a softbound letter sized workbook for grades 4 through 5 on the subject of English and the written word.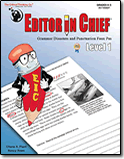 This slim bound 132 page book is broken down into 12 lessons which are further broken down into individual paragraphs of activities.
In Editor in Chief 1 the goal is to have students edit content in context rather than just random sentences. That will help our student when working on their own content. There are several kinds of content being edited and the errors to be discovered are according to grade level.
The lessons are as follows…
Capitalization
Punctuation
Spelling Rules
Nouns and ProNouns
Adjectives, Adverbs, Articles
Verbs
Agreement
Conjuctions, Prepositions, and Interjections
Confused Word Pairs/Negative Words
Homophones and Homographs
Run-On Sentences and Sentence Fragments
The activity paragraphs are short and students do them by correcting errors depending upon the lesson.
In the front of the book there are suggestions for how to use this work with your child. From actual instruction to assessment, practice, or reinforcement. I chose to use it as practice and reinforcement of our English lessons. We use this resource as a sort of daily review several times a week before our regular English class. On the first day of a lesson I read through the rules of the lesson, depending upon the lesson. Lessons such as the Spelling Lesson ,which has several pages of rules, we go through rather quickly for time's sake and review as we do the paragraphs.
For each paragraph we also have the option of rewriting it. I opted to just have my daughter note the mistakes within the printed paragraph with colored pencils since we are using Editor in Chief as reinforcement.
The first set of lessons in Editor in Chief Level 1  are on finding the mistakes in editorial content in several paragraphs. The first lesson is on content or making sure that the information is correct. There is a paragraph on a topic and a match picture with a caption. The information in the caption is correct while the information in the paragraph could use some looking over. Under that first lesson are 4 pages each with a paragraph to correct.
After a few lessons there is a mini review to cover what was just gone over.
At the end of the whole book, after all lessons are completed, there is a Final Review.
The lessons are short and simple but require focus and detail. My daughter has a habit of rushing through things so doing each of these lessons has required her to slow down for a few minutes, take her time, read the directions, and find all the mistakes.
This has been a good addition to our school curriculum. It's quick, and semi-puzzle like in that my daughter has to "hunt" for the mistakes.  My daughter likes puzzles so coming at these paragraphs as little puzzles is a game changer in our homeschool room.  Also she's getting a good review on past learned topics. I like that the number of mistakes to find are also listed on each paragraph page and that the answers are in the back of the book.
Some homeschool review products I choose not to continue on with in our homeschool room but I think we'll keep this one going into the summer.
I'm checking out their catalog for something similar in the Math department.
You can connect with the Critical Thinking Co. online at the links below.
Facebook- TheCriticalThinkingCo
Google plus
Twitter-criticalthinks
Pinterest-criticalthinking.com