Free Math Curriculum for One Year!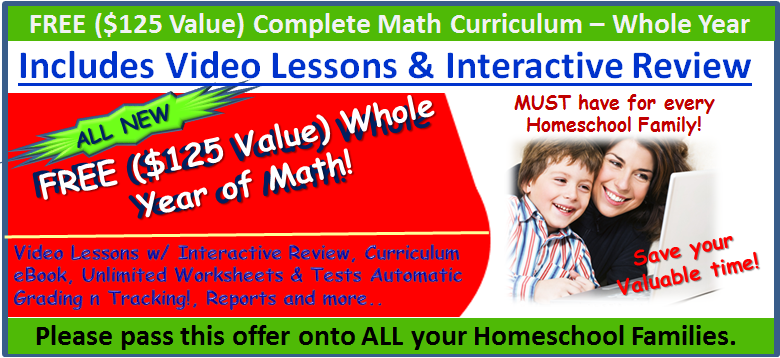 FREE Complete Math Curriculum Online ($125 Value) for ALL your Homeschool Families!
FREE Math Curriculum 1-Year Online w/ Video Lessons, Interactive Review, Worksheets & Tests w/ Automatic Grading N Tracking, Reports and More…
Click this link to claim yours: Get On Year Free Homeschool Math Curriculum
You get a lot with this Math program – ALL FREE,
* Video Lessons with Interactive Review
* Curriculum eBook
* Worksheets & Tests – Already generated for you (online or print PDF)
* Parent can generate and assign worksheets & tests (optional)
* Students complete worksheets online or offline (printed PDF)
* Step-by-Step Solution to each problem
* Automatic Grading & Tracking (HUGE Time SAVER)
* Easy to read reports
* Plenty of practice to master math concepts
You get a LOT More than just a Math Curriculum – ALL for FREE…!
1. Complete relief from the stress of teaching, grading and tracking math.
2. Peace of mind in knowing that your child is getting a strong foundation in Math – Priceless!
3. Fun, engaging and rewarding learning environment where student can learn independently and at his own pace.
4. Your student will LOVE math again. Spend less time in learning new math concepts.
5. Savings of 2 to 3 hours of YOUR valuable time each week to care for your family. That is about 100 to 150 hours for the year (imagine how much more enjoyable and rewarding it can be – TOTALLY Priceless!).
6. Savings of $1,500+ in your time for each child at just $10/hr. (We know your time is worth a LOT more than just $10/hr.).
7. You can RELAX! Let the program do the teaching, grading and tracking for you.
Limited Time Offer – NO Credit Card Needed!
Why this new program and what's so GREAT about it?
Most homeschool moms spend a minimum of 2 to 3 hours for each child homeschooling Math (I'm nodding in agreement here). This program can give you most of that time back with Video Lessons, Interactive Review, Worksheets, Tests, Step-by-step solutions and automatic Grading & Tracking. ALL this makes this a complete and ONLY math curriculum you will need – ALL this for FREE!
Click to Sign Up