Helping Children Develop Their Speech Skills with Color My Conversation {Review}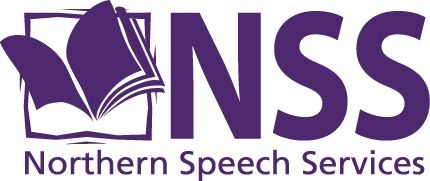 We've been having a lot of family fun with 
Color My Conversation
 by 
Northern Speech Services
What is Color My Conversation? Color My Conversation is a curriculum developed by Speech-Language Pathologist Rosslyn Delmonico to help children develop their skills in face to face conversations.
Members of the Homeschool Review Crew received the Color My Conversation package several weeks ago to give it a go in their homes (we're one of them).
The packed package contains all the things to help you child learn and practice what to say in simple face to face, every day greetings and conversations.
Join now and get 60% off a Club membership. That's only $20! Limited time offer.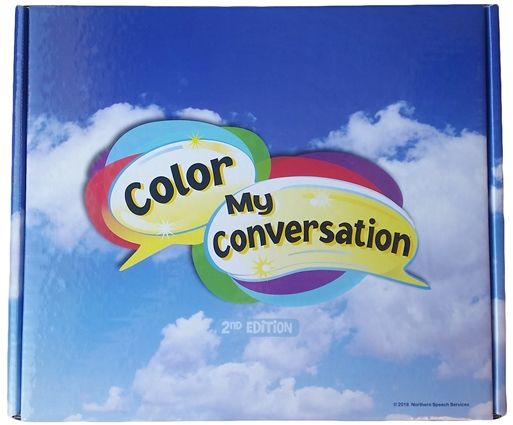 We received a nice colorful bo with the following items…
Conversation Path Stepping Floor Graphics
100 Topic Prompt Picture/Emotion Cards
50 Game Tokens
50 Dry Erasable Wall Display Cards
2 Dry Erase Pens
Cloth Ribbon (approx. 9.5ft)
Game Board (foldable) with 4 Activities on the back
Yellow Ball
Classroom Poster
Instructional Manual and CMC Songs on CD
Additional Reproducible Worksheets & Activities 
Access to supplemental video lessons
Some examples of the lessons are…
Lesson 1 – Yellow Conversation (or hello and goodbye)
Lesson 2 – Short Conversation (small talk)
Lesson 8 – Speaking Loud and Clear
How Did We Use Color My Conversation?
This is one of those products that my daughter read about over my shoulder and begged for. She felt her "conversation" could use some help and so here we are.
Growing up as an only child she is sometimes tongue tied around her more talkative multi-sibling friends. Whether this is her nature or a result of being an only child I have no idea but she wanted some help. (Although I do think she does just fine and has nice friends who love her and vice versa).
To use Color My Conversation first there is a little pre-reading and helpful videos, accessed online, to show you how to use the program effectively.
Lesson 1 was about simple conversations. The Hello, and Goodbye.
To use the program we started by talking about simple ways we can say hello to someone when we don't have a lot of time to talk. What those situations are and what we say when we are in them.
There is a short video we watch together first (I'm not so sure she's supposed to be watching these with me but she insists and she seems to pick up a lot from them).
To help your child there are colorful foam "rocks" to lay on the ground to use as a visual guidance in what to say next. The rocks have wipeable surfaces so you write on them hints on what to say next.
After talking about it then we use the yellow ball (you toss it to the person who speaks next) and the rocks (you step on the rock as you are speaking) to simulate these conversations.
There are plenty of visuals and printables to help reinforce the lesson.
And smaller versions of the rocks to put up on a bulletin board. Our bulletin board has still not been mounted on the wall after my reorganization but we're using it anyway to display our rocks.
There is also a song CD with a cute song for each lesson to remind your students of the key parts of this part of conversation.
We do one lesson a week and then spend the rest of the week practicing at home and out and about. My daughter really likes the short conversations.
The curriculum is a 14 week course so we're not that far along yet but read on to see how it's been benefiting us so far.
How Did We Like Color My Conversation?
So normally it would just be my daughter and I with our homeschool products but one day as we were doing Lesson 3, short conversations with the red stone, I commented that "daddy", or my husband could use this lesson. He has a hard time letting people know when he has to cut the conversation off. It has caused many humorous moments in our home and especially because my husband is one of those people that is a very good listener so people really like to bend his ear.
So we brought daddy into this review and he's been using Color My Conversations with us.
The other day as he was talking with my mother on the phone, bless her heart I hope she's not reading this, I could tell he needed to go but she was on a roll. I ran and got the red stone and flashed it up at him. He held in his laughter as he read one of the hints and let my mom know he had to go. Voila! It works.
We are having a lot of fun with Color My Conversation. I know it's meant for kids but honestly it's helping us all focus on what we say and how we say it.
Now my daughter listed some specific conversations where remembering what she is learning in Color My Conversations helped her.
At the dentist (we had appointments in March)
At her birthday party (it was a mixed party with adults too)
With a new friend
I'm happy this is giving her the confidence to have face to face conversations in unfamiliar situations and when meeting new people.
You can connect with Northern Speech Services on these Social Channels
Social Media Links:
Facebook (company):  www.facebook.com/northernspeech
Facebook (product):  www.facebook.com/colormyconversation/
Twitter:  www.twitter.com/northernspeech   @northernspeech
Pinterest:  www.pinterest.com/northernspeech
YouTube:  www.youtube.com/northernspeech
Instagram:  www.instagram.com/northernspeechservices/
Click the button below to check out more reviews from the Homeschool Review Crew on Color My Conversation