Bessie's Pillow: A Young Immigrant's Story : Homeschool Book Review

We love
historical fiction
 so I knew that 
Bessie's Pillow
published by
Strong Learning, Inc.
 would be a hit to share with the family. We were able to review this book recently with the Homeschool Review Crew.
Bessie's Pillow is based on the true story of the author's grandmother, Boshka "Bessie" Markman, and her immigration from Lithuania to the United States back in 1906.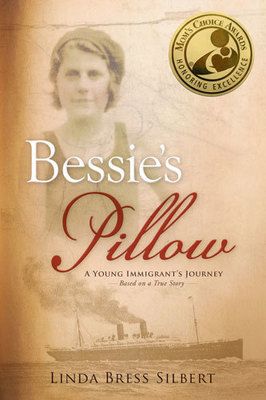 Bessie's Pillow
, by
Linda Silbert
, is a soft cover book written for young adults. It is 266 pages in length.
The book begins on first day of the journey when an 18 year old Bessie leaves Lithuania and boards the big ship that will take her far from the family she loves. Before she leaves however a mother places in her hands a pillow that will shape her future. What follows is an adventure that lasts a life time. A new culture, new challenges, and a new sense of strength are what Bessie faces throughout her life to come.
Bessie lands in her new land only to be unwelcome at her sister's home. She goes on to stay with her best friend and discover a strength to support herself and make new friends.  Bessie's Pillow is all about her life in America.
Bessie was such a young girl when she began her travels but had to grow up quickly.
The details in Bessie's Pillow give the young reader a great glimpse into Jewish traditions and beliefs.  The reader will learn about pogroms and the horrible treatment of the Jews in eastern Europe faced at the time. And about Jewish customs that are practiced to this day.
Reading Bessie's Pillow
It took me a couple of days to read Bessie's Pillow with my schedule. But it was good. I took it to the dentist,  I read it after my devotions each morning. For me it was one of those can't put down books. My daughter was the same story. She read it in one night and had red rimmed eyes the next day to show for it!
How Did We Like Bessie's Pillow
I read the book before my daughter and I couldn't put it down. I loooovvvvved this book! I love to read historical books like this. I know it's written for young adults but aren't we all young at heart?
I also know it says it's based on the true story but I'm gathering from the pictures and details that much of the true story (my thoughts). Linda Bress Silbert, the author, asks for forgiveness if some details about the times are off as it was originally an oral history and therefor may not be entirely accurate. I'm no historian but nothing stood out for me as being out of character or not of the times (as can happen with some historical fiction).
I found myself wishing that there was more background information on some of the Jewish customs such as grieving or even kosher meals. I'm not a complete novice when it comes to Jewish culture. My father's adoptive family (from his own immigration) is Jewish and we have a few friends that are Jewish but for my daughter or another young reader I thought it might a good idea to have some details about seder, sitting shiva, and what eating kosher means. …Well all that was before I checked the online resources!
The Bessie's Pillow website,  Bessie's America section, includes plenty of resources to help teachers and homeschool parents expand on the items in the book. The Teacher download includes a glossary describing the things I mentioned above and more. It's not super detailed but it gives a starting point for you and may prove to be enough.
As far as readability this book is geared towards middle and high school students. My daughter is 11 going on 12 and I felt the content was okay for her. There were unpleasant situation and mentions of some of the things happening during the pogroms but we had studied the holocaust in 5th grade so she wasn't unfamiliar with anti-Semetic happenings.
You can connect with Bessie's Pillow on social media here…
Facebook: https://www.facebook.com/BessiesPillow
Twitter: https://twitter.com/BessiesPillow  @BessiesPillow
Click the banner below to read more reviews about Bessie's Pillow