Bring it Back from the Brink with Homeschool Rescue a Homeschool Review Crew Review
Is it time to breathe new life into your homeschool days? Are questioning your choices? Struggling with time? Or worried if about your curriculum? If so take a seat and read about Homeschool Rescue by 

Only Passionate Curiosity

.
Along with other members of the Homeschool Review Crew we recently got to take Homeschool Rescue for a test drive.
See we're all seasoned homeschoolers in one way or another and along with years of homeschooling comes days of doubt, regret, and wishful thinking.
We've all had our moments. Days when we thought this wasn't working. In our own case days when my poor daughter was bored out of her skull. Or I wondered if we were making the most of our days or wasting them checking off everything in the Lesson Plan.
Join now and get 60% off a Club membership. That's only $20! Limited time offer.
That's why Heather from Only Passionate Curiosity created Homeschool Rescue. Not necessarily for the brand new homeschooler but for those who have been at it a while and need to breathe new life in their homeschool days. Homeschoolers like us.
About Homeschool Rescue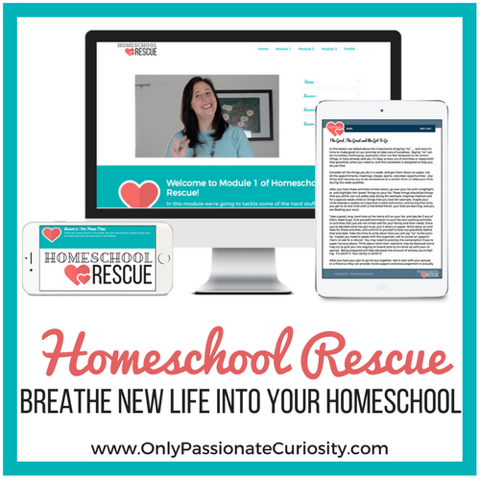 Homeschool Rescue
is a 60 day, self paced, online eCourse. It contains 5 Modules that themselves each contain 4 to 5 lessons (except Module 5 which contains 3 lessons). There is also a Bonus section (packed with planners) and a Facebook group.
Through a video interface of several lessons your creator and instructor, Heather walks you through figuring out what is wrong in your homeschool and what you can do about it. You're given several resources, most free, some paid such as books for further reading if you wish on Amazon.
Lessons are broken down into 5 Modules each focusing on a different aspect of homeschooling.
Even though Homeschool Rescue is meant to be completed in 60 days (there's a printable workbook to go along with this) you have Lifetime Access to the course because let's face it life interrupts.
Homeschool Rescue is meant to be done at your own pace but Heather is offering a live version of the class this June and July. But be forewarned Homeschool Rescue is only available for purchase from now until May 31, 2017. After that you won't be able to purchase it until later this year.
There are two versions of Homeschool Rescue.
Option 1 for $97 which includes…
Lifetime access to the video lessons with files and worksheets
Bonus planners just for mom
other juicy printables for kids and teens
access to the Facebook group
the Group Live Session
Option 2 a VIP version for $137 which includes…
Lifetime access to the video lessons with files and worksheets
Bonus planners just for mom
other juicy printables for kids and teens
access to the Facebook group
the Group Live Session
AND 2 one on one coachings sessions with Heather if your homeschool REALLY needs CPR.
Heather's videos are a mixture of slides with quotes and Heather herself. There is soft music in the background. At least in the first few modules. I'm not all the way through so I can't speak to later in the lessons.
The videos are short but informative.
Heather will guide you through creating a workable routine, figuring out what you can and can't accomplish, working your curriculum instead of having it work you and much more.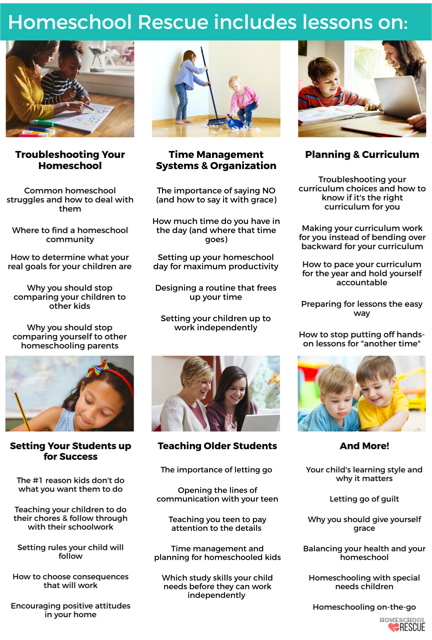 When I Found Time to Take Homeschool Rescue
After a bit of bumbling and looking for an opportune time I found the best solution for me. I take my Homeschool Rescue lessons while making dinner. It seemed the best time to be able to focus (believe it or not) on the lessons. This meant my family listened in and chimed in. We especially like learning how to tell what you have time for and how to tell if something on your schedule might not be a good fit for you.
While I took most of the lessons by myself, since I was listening to them in the kitchen my family did eavesdrop. We particularly found the lessons on Saying No Gracefully helpful. We have needed someone to tell us this is okay in the too recent past so having a self check from Heather on when to know when something is not right for you was really helpful for us. A check to see that we made the right decision.
I'm excited to keep going with Homeschool Rescue. Even though we are not having any glaring issues right now I can totally see how this eCourse could help me really fine tune and perfect our homeschool experience. And just so you know this ecourse covers more than just organizing your homeschool curriculum. There's a whole Module just on organizing all your activities. Creating workable schedules and managing your time. Love that! I'm taking my time here.
I find Homeschool Rescue unique that instead of catering to the new homeschooler and those interested in homeschooling it's for us seasoned moms who may be getting burnt out.
Our children's education is an investment in their future. It costs not only money but also time, energy, maybe some outside activities, a few vacations and occasionally peace of mind. Invest a little bit more in it with Homeschool Rescue.
You can connect with Homeschool Rescue on the following Social Media Channels.
Facebook | Twitter | Pinterest | Instagram | Google+
Click the banner below to check out more reviews of Homeschool Rescue