Creating a Masterpiece Online Art Lessons for the Whole Family ~ A Review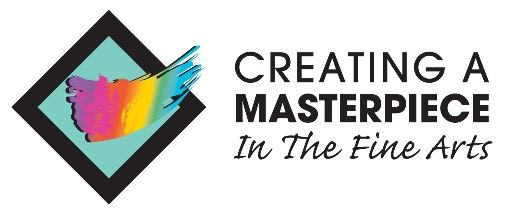 We've finally added regular art lessons to our curriculum when we were given the opportunity to review the 
Creating a Masterpiece
Monthly Plan
with the
Homeschool Review Crew
.
My mother is a retired art teacher and we were one of those situations like the chef's family having to eat out all the time. We just couldn't get it together and find a good way to have structured art lessons with my mom (maybe that was the problem). So I thought having access to the 
Creating a Masterpiece
 art lessons seemed like a good plan.
Creating a Masterpiece is a hub of online art lessons that you can subscribe in a Monthly Plan for your child. There are 18 art mediums in 6 levels including Beginner level where we started off. The program is watched online while your student completes the art with their own supplies. There are video lessons and pdfs of the artwork to print if that works better for you. There are also supply lists of the items needed to complete the art.
Some of the art lessons are short and some are long but in all of them your child will reproduce the same art that the online teacher, Sharon Hofer, is working on.
Creating a Masterpiece can be used with children starting at age 4 or 5 up until…well I suppose there is no limit.
You can subscribe to  Creating a Masterpiece for $39.99 a month or subscribe for a full year at $359 for unlimited family plans.
Use Creating a Masterpiece in our Homeschool?
We decided to use Creating a Masterpiece as a once a week art lesson at my mother's house. Since, as I mentioned before, she is a retired art teacher she has all the tools we needed for our lessons, or so I thought. But that's beside the point. In each lesson a supplies list is given which is very helpful. Sharon Hofer, the instructor, tells you which brands are good to buy and what to look for in art supplies.
During the lesson Sharon speaks in an encouraging voice describing each step to create the masterpiece.
Since my daughter is technically new to formal art lessons we chose to start with Beginner watercolors.
The first painting she did was Floral Medley (see below). We went shopping in my mother's supplies and then off to the craft store for things we couldn't find at home and got to work.
Sharon guided my daughter through each step of the painting. Showing how to add elements and what to do if your paper wrinkles up (iron it on the other side once it dries).
Our schedule includes doing a couple of "regular" school lessons before heading in to art. Since the art lessons she has been doing have been beginner and Level 1 she has been able to complete them in a day.
The next art lesson she went on to do was African Sunset which is also a watercolor. In Creating a Masterpiece Sharon's own art is very obviously a lightly colored painting. Very pretty. You know, the watercolor touch. Well the Sweet Peanut chose to make it darker and really added in her colors deeply (see below). There was also a neat technique of adding trees by using a straw.
After that the Sweet Peanut tackled a charcoal drawing called Sailing Adventure. And then a beautiful pencils in watercolor one of a bird called Pheasant. This was in Level 2.
She has come to really enjoy creating art with Creating a Masterpiece.

So far the Sweet Peanut has gone on to create masterpieces in watercolors, charcoal pencil, and soft pastels.
My Thoughts Creating a Materpiece?
My mother and I differed in our appreciation of Creating a Masterpiece. As an old school art teacher I knew she would balk at copying someone else's work.  She is big on creativity and believes in showing her students the way and then stepping back to see what they come up with. But I felt that sometimes a student needs a little push such as in the case of my daughter. And when I took art in grade school we did much the same. Copy the teacher's artwork from the front of the room.
Even with those thoughts my mother did really like the The Sweet Peanut's work and felt she could see her originality through her work.
My daughter's work is no way identical to those in the Creating a Masterpiece samples and that makes me like them all the more. The program has opened my daughter's eyes to how she can create lovely artwork step by step. Our goal is to keep going with our weekly art lessons and hopefully step out from repeating someone else's artwork and create our own.
I think Creating a Masterpiece makes a great addition to the homeschool room. It can be difficult for homeschooling parents to come up with art activities on their own and once the days of cut and paste are over transitioning into something this lovely is very nice indeed.
Oh I have plans to frame all my daughter's creations and place them around the house. I hope you enjoy her creations.
You can connect with Creating a Masterpiece on their Facebook page =>
https://www.facebook.com/createamasterpiece
Click the banner below to read more Homeschool Review Crew Reviews