Digital Heroes & Heroines of the Past, Schoolhouse Review Crew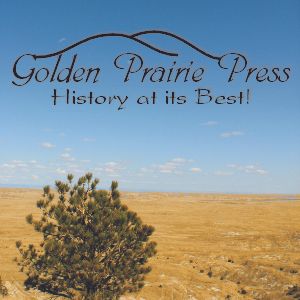 As the school year winds down we're supplementing our history lessons this month reviewing
Digital Heroes & Heroines of the Past: American History Curriculum
by
Golden Prairie Press
.
Need a good Unit Study American History Curriculum? Then read on…
To really understand what life was like years ago, history must go beyond words on a page. Recipes must be cooked, games must be played, historical art must be examined, and crafts must be done. Each day there is an activity that brings history to life.
~Amy Puetz
Digital Heroes & Heroines of the Past: American History Curriculum is a full American History curriculum for grades 1st through 6th.
This curriculum is very detailed and works as a well rounded unit study of our American History.
Join now and get 60% off a Club membership. That's only $20! Limited time offer.
I do not remember reading this deeply into American History until I was in High School and even then not so much!
I love history. I love imagining how it was in the past and also learning so much from it. The hard work, the dedication to what one believed in. It's all here.
Digital Heroes & Heroines of the Past: American History Curriculum comes with 5 resources designed to make American History come alive.
American History Part 1 : 388 page ebook that covers the years 100o to 1837.
American History Part 2 : 408 page ebook that covers 1837 to the present.
Historical Skits Volume 1 : 19 skits to act out important dates in hisotry.
Sing Some History Mp3s :  20 historical songs such as Yankee Doodle and Oh Susanna. Covers 30 minutes listening time.
Listen to Some History Mp3s : 20 speeches, poems, sermons, and documents from important historical moments.
Additional Materials: Timelines (important for getting those dates down), instructions for some crafts, images, and links to videos.
You can purchase Digital Heroes & Heroines of the Past: American History Curriculum as a downloadable package and get immediate access for $98.99 or you can purchased the printed package for the same amount.
The printed version is black and white and the download version is full color.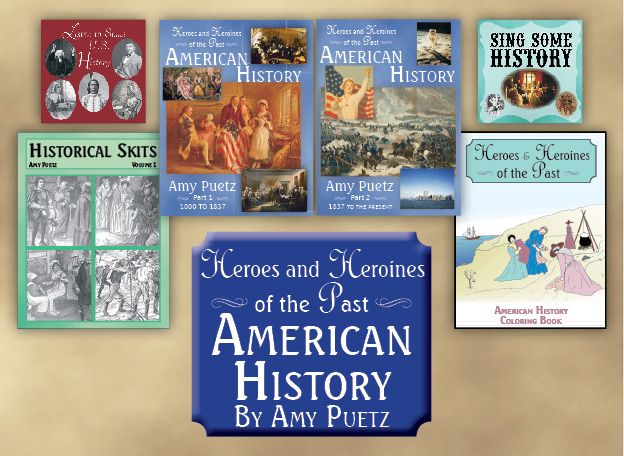 What's Inside
Digital Heroes & Heroines of the Past: American History moves in chronological order starting with The Period of Discover.
Each lesson in the curriculum is broken down into two grade groups.
The first part of the lesson is for 1st to 2nd grade. These lessons are broken shorter paragraphs and simpler terms for young learners.
The second part repeats the same lesson but with more detail  for the 3rd to 6th grader. These lessons have more detail, more in depth information for slightly older learners.
Each lesson is accompanied by paintings or images, some labeled, to help tell the story.
Following the lesson text there are review questions to recap what was learned. It's a very short portion with only a few questions for example 4 or 5. Answers are in the back of each book.
After that there are activities to go with each lesson. Such as….
To give your child some writing practice there may be a Writing essay portion after each lesson. There are an average of two questions in this section. The writings are things like, "Pretend you are so and so in the year 18bladeyblah. What would you do if?" This can really help spark your child's imagination.
Vintage crafts projects such as, make vintage paper, make a stamp from food, create a hornbook, and more.
There is also Taste Some History projects where you can make biscuits, cakes, soups, and such.
Listen to Some History famous speeches and readings from history.
Sing Some History featuring popular songs from certain eras.
Some other things that may included with each lesson is a simple Geography lesson.
And then there may reading recommendations for going further and a memory scripture verse for each week's lesson. Did I mention that I love how Amy incorporates God's Word into the lessons?
The lessons run from 30 minutes to an hour depending upon the activities.
How We Used It
We started Digital Heroes & Heroines of the Past: American History Curriculum  with the People of North America under the Period of Discovery.
Learning about the original Americans was particularly fascinating for The Sweet Peanut and opened up the forum to discuss our own Native American ancestry and the many names of cities, bodies of water, streets, parks and more named for individual Native Americans in our history.
One of our projects was to seek out all the landmarks, cities, streets, etc, with Native American Names.
Mommy used to live in Seattle (Chief Seattle).
We buy Tilamook Cheese (An Indian word meaning "land of many waters.")
We love produce from Yakima (named for the Yakama peoples)
And apples from Wenatchee (named for the Wenatchi Indian tribe)
My grandmother has long dark hair inherited from her Native American grandmother.
Daddy used to live in Tacoma ( name after the nearby Mount Rainier, originally called Mount Tahoma)
Many of the foods we enjoy we introduced to us by the People of North America (
and much more…
While we were driving through our beautiful country Peanut and tried to imagine what it would be like back then, living on the land, walking the through beautiful wilderness. We have some lovely mountains and trees here in the Pacific Northwest and it's easy to imagine yourself in another time when driving through the countryside.
Following this lesson the craft was to make a canoe and a teepee but since we already made both of these projects in earlier grades we are searching for ways to make a bow and arrow which we also learned a little bit about in lesson 1.
After going through Lesson 1 since we had been studying the life and times of George Washington and also The Constitution, the Bill of Rights and expansion into the American West we moved further into the curriculum to The Formation of the Union and The Period of National Development.
As you know (0r maybe not) the Sweet Peanut is in the third grade. It seems this is the year to introduce how our country and laws were created so making sure those aspects of our history are understandable but interesting for a young 8 to 9 year old is key.
We used the Listen to Some History  to hear
Declaration of Independence, 1776
The Constitution, September 17, 1787
Bill of Rights, ratified December 15, 1791
I'm telling you I learned a lot in this section. Peanut too.
Peanut is a visual and aural learner so after reading the lessons out loud we would talk about the included graphics while I went over the lesson.  Next, if we had any, we would listen to the excerpts that went with the lesson and then look up more information or pictures. The Sweet Peanut always has a bunch of questions that go beyond the lesson so we make lists to checkout books from the library or research more items if necessary.
Somethings we did not use.
We didn't use the skits (yet). There is also an optional Coloring book you can purchase to go with the curriculum.
I clearly remember not learning, very well, about American History all my years in school (okay to be fair we did live overseas for a bit of my childhood).
Digital Heroes & Heroines of the Past: American History Curriculum may be called "Heroes and Heroines" but it is much more than that. The well rounded introduction and study of the founding and creation of America is told in a story like manner so that children can grasp what is being taught. The addition of crafts and activities makes it come alive.
If you're looking for a good American History Curriculum I think you'll enjoy this one. Be prepared to not only learn with your children but look at your country with new eyes.
You can connect with  
Golden Prairie Press
online here…
Facebook: https://www.facebook.com/GoldenPrairiePress