Go Science DVDs -A Schoolhouse Crew Review
Science experiments are always great fun but for many of us homeschooling parents coming up with exciting experiments on your own is not that easy and the prospect can bring on frantic nail biting. That's why we love to use products like the
Go Science DVDs
  by
Library and Educational Services
.
The scientist is motivated primarily by curiosity and a desire for truth.
~ Irving Langmuir
Members of the Schoolhouse Review Crew were able to choose Go Science DVDs to watch and review from the Library and Educational Services' website.
Go Science DVDs are the shows from a program started about 2 years ago. The show features presenter Ben Roy performing experiments for a larg(ish) groups of kids sometimes outdoors, sometimes on the set, sometimes in a gym, etc. The experiments sometimes feature special equipment but also many times they are simple experiments your kids can do at home. You always learn something and Ben Roy likes to sign off each segment by reminding us that God our Creator is behind this wonderful world of science (nice touch).
Each Go Science DVD  arrived at our home in a dvd container case with the actual DVD inside. One dvd per case. Shipping was pretty secure so my cases didn't suffer any damage (as I have had with other companies before).
Join now and get 60% off a Club membership. That's only $20! Limited time offer.
The cover of each DVD shows you which topics are covered in the shows on the DVD you have and the back cover tells you a little more about the presenter Ben Roy and a list of what topics are on the over volumes. This list is of the categories not the individual episodes (which I would love to also know at a glance).
On one of our DVD there was a main menu giving you first the categories and then if you click on your choice it will list the shows available to watch. This was the Life Science and Weather DVD. On the Engineering, Design and Flight DVD there was no main menu. I did like the menu aspect.
There are 7 Volumes in this series, series, 2 and we got to review…
Volume 7 : Engineering, Design, Flight and Volume 2: Life Science, and Weather.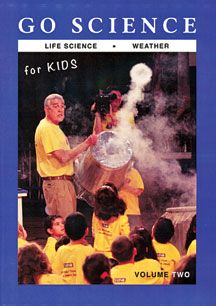 Here are some of the episodes we watched on the Engineering, Design and Flight disc…

Leaning Tower of Lyra – Finding the center of gravity. Yes we ended up trying some of this.
Nail Balance – Another Aha! cool one to try at home. Balance 10 nails on 1. Can you do it?
Walking on Eggs –  This one made us giggle and Sweet Peanut threatened to do this with our eggs at home!!!
Rocket Balloon – Immediately Peanut got her balloons and tried to do this experiment.
Here are some of the episodes we watched on the Life Science and Weather disc…
Garbage Can Vortex – We couldn't do this one at home but it was sure neat to see.
Eating Nails for Breakfast – I want to try this as soon as I feel I have some extra breakfast cereal to spare.
How Much Do Your Lungs Hold? – Haven't you always wanted to know this? You actually may have some of the equipment to do this experiment at home.
The full list of available Volumes
Volume 1: Sound, Gravity, Space
Volume 2: Life Science, Weather
Volume 3: Air
Volume 4: Motion, Friction, Electricity, Light
Volume 5: States of Matter, Water
Volume 6: Chemistry
Volume 7: Engineering, Design, Flight
How did We Like these DVDs?
The videos took place in several locals and even had some Vacation Bible School students join in for some experiments. They were outside, and inside, and in a gymnasium, and in the studio. You get the idea.
For the adult the host may come across as a little cheesy but he is speaking to little children and they really respond to him.  And my husband and I really enjoyed watching them with our daughter.
While the shows are educational and you WILL learn something there is no pressure with these videos. There are no quizzes, no worksheets, no evaluations. Just pure fun!
The shows are cute featuring a set with several (like 20+) young kids ranging in ages sitting around the setting interacting with and watching Ben Roy perform all kinds of experiments.
The kids (and Ray Roy) are all wearing the same t-shirt like a club or something and Ray knows all their names. He asks them questions pertaining to the experiments and selects a few to do the experiment with him.
The shows are geared towards ages 4 through 12 but I think science experiments tend to draw kids of all ages including adults. These videos are great for a wide range of ages.
How did We Use these DVDs?
Since our school year is about up AND we're in the midst of a big move we've been watching these videos for pure enjoyment and some badly needed down time. But! I did find the Sweet Peanut enjoying the videos on her own. And! We're definitely going to be trying out a few after our move is settled. Some of the experiments were simple enough to grab stuff and follow along. I've been teetering on the edge of trying out the one where he pulls the iron bits out of fortified breakfast cereal. That experiment was a WOW! for me. I seriously had no idea!
My plan is to type up a list of the experiments and the category they fall into. That way next year when we're doing our science curriculum we'll know exactly where to go to find applicable experiements! Sounds like a plan eh?
You can pick up your own copies of Go Science DVDs for $8.97 each at Library and Educational Services
Check out some samples of some of the videos you'll find on Go Science DVDs…
Find more great reviews of the Go Science DVDs when you click the green banner below.