Home School in the Woods The Early 19th Century Time Traveler Series {a Homeschool Review}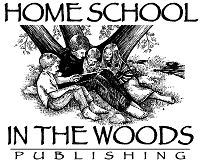 My daughter and I have been having a fun time this summer studying
The Early 19th Century via the Time Traveler American series
from
Home School in the Woods
This is our third time around with Home School in the Woods and their lapbooks and Paks. We just love all the details that they put into them but first let me explain what this all entails.
Home School in the Woods is a Hands on History company created by the Pak family. Mom, Amy is a homeschool mama herself and used her background to create a wonderful learning experience for her own children. Home School in the Woods was thus born. Constantly churning out new products Home School in the Woods has been a Review Crew favorite for years.
Just check out all the awards on their About Us page..
Join now and get 60% off a Club membership. That's only $20! Limited time offer.
In June members of the Homeschool Review Crew were given several Home School in the Woods products to review.
We were given The Early 19th Century from the Time Traveler American Series
The Early 19th Century Time Travelers is a 25 lesson History Study on the Early 19th Century in America. It comes as a download or on a CD (Mac and Windows). We received the download version.
The grade range is 3rd through 8th. My daughter is just going into 7th.
The activities with the lessons make a Lapbook, a Teacher's Notebook, and a Student Notebook.
You can purchase the Early 19th Century Time Travelers for $27.95 for the download version and $28.95 for the CD version.
How we used The Early 19th Century
We waited until we were pretty much done with the rest of our homeschool this summer so we could focus on using the Early 19th Century Time Travelers.
This is meant to be used as a history study. It includes several projects and a reading for each day. Friday is set aside as a day to complete projects.
Home School in the Woods
products are a little labor intensive but let me tell you they are well worth it! A labor of love. They're fun and so completely cool when they are all done.
We chose to follow the Lesson Plan that comes with this History Study. It lists the items to be completed for each lesson.
One of the first things I printed was the lesson plan. In the past I've been a slave to lesson plans but these days I do try and edit things to meet our needs and the learning needs of my daughter. After saying all that I want to tell you that so far I haven't done any editing to the Early 19th Century Time Travelers.
There is a lot of printing to be done with Home School in the Woods Projects. I like that they give tips for what color printer paper to use and other options. This time around though I chose to print everything in black and white and have my daughter color in with colored pencils where needed.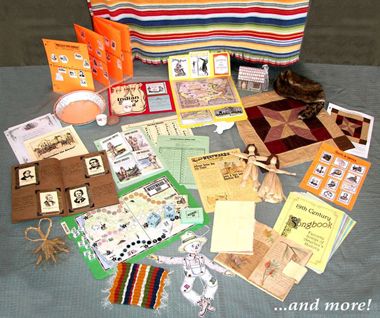 We start out by printing all the items for the current day's lesson instead of printing all at once. With the previous
Home School in the Woods
products we reviewed,
U.S. Elections Lap-Pak
 and
Project Passport Egypt
 we printing everything at once and dove through it. The end result was fabulous but I think we missed some digging deeper moments.
For our lessons I read the included text for the day while my daughter cuts out, colors, and does some gluing. Some of the projects we've been putting together are a Timeline, Penmanship worksheets, and various other items to go into the Lapbook.
There are also 3 ring binding covers, and more resources to look into such as lists of books, videos, and audios.
Even though we have a full curriculum going on in our homeschool I find myself really drawn to these products from Home School in the Woods. They make history come alive and take you on a journey.
Home School in the Woods offers a full experience for diving deep into history. If you find that your child is just not enjoying history I'm going to recommend you try Home School in the Woods  you may find yourself enjoying the journey also.
My daughter luuuuuvvvvvssssss Home School in the Woods. It's not like school at all for her but a fun, hands on learning time. And when you're done you have this wonderful teaching tool that you can share.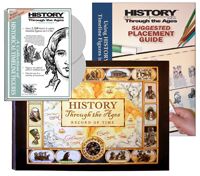 Give Home School in the Woods a try. Check out their Ala Carte page and use code:alacarte  to download the Erie Canal pop-up lapbook for FREE.
You can connect with Home School in the Woods through Social Media here…