HomeSchoolPiano a Schoolhouse Crew Review
I apologize in advance for this VERY long review. Playing the piano is near and dear to my heart.

I knew this new review of the HomeSchoolPiano – Complete Set of Books by HomeSchoolPiano  by would be one I definitely wanted to be in on. You see as an adult piano learner my goal was to review this product for myself and see if it could help me ramp up my skills. So learning to play piano as an adult? Read on…

Here's my piano background…
I love playing the piano and always wanted to learn to play when I was a child. But due to my father's international job my family moved a lot and we never seemed to be in the same country long enough to take piano lessons.
It was always just a dream until I was in high school and I took one of those little classes that let me play Silent Night very basic style. I still wanted to take real piano lessons but the desire got lost in the flurry of high school activities such as gymnastic events (I had wanted to do this too), academic clubs, and regular social activities.
Finally when I was a freshman college I bought myself an electric keyboard and a how-to play book for my birthday. I've had a long held tradition to purchase myself something I really want for my birthday each year. It's not always a big ticket item but usually something I've kind of wanted. It's how I purchased my Kitchen Aid Mixer which is now going on it's 24th year.
I kept at the self taught lessons for a couple of years and got to a point I could play, again simple hymns and such, for church. We are members of a very small church so my piano play, albeit rustic, was appreciated.
Then I got married and my husband lovingly helped me to find a piano teacher that I stayed with for a couple of years. This piano teacher took note of my strengths and skills that I had already learned. And we discovered that focusing on playing using the piano chord method would be best for what I wanted. I also had to unlearn a few things and strengthen my left hand skills.
The lessons were great and really ramped up my music theory knowledge. Unfortunately life took over and I had to stop taking those lessons but I never stopped trying to learn. You see once you learn to play piano then you try to master that style you love so much. That was almost 20 years ago and I've never stopped trying the find that perfect piano lesson that will let me ramp up my skills in the comfort of my home on an ever changing busy family schedule.
So yes I jumped!, not raised my hand, but jumped! at the chance to be able to review HomeSchoolPiano – Complete Set of Books for y'all.
Usually the piano lesson programs we review are geared towards young children or adolescents. I suppose this product is too, hence the Homeschool in the name but I felt that although it's called HomeSchoolPiano these lessons will work as well for an older person wanting a chance at tickling the ol' ivories.
This review is all about learning to play the piano or as in my case upping your piano skills period. Perfect! And just what I was looking for.
About HomeSchoolPiano
So enough about me.HomeSchoolPiano – Complete Set of Books is a complete online piano curriculum taught by Willie Myette, who carries an impressive resume. You can read that here.
The piano lessons are geared towards all ages (hear that mom). And Yaayyy! And I found this to be true.
I have taught basic piano lessons to young children with excellent results (much to my surprise) and know that you don't need bells and whistles to teach.
The piano lessons start from the very basic notes on the piano and and end with arpeggios (broken chords), some extra technique, and improvising with Canon in D.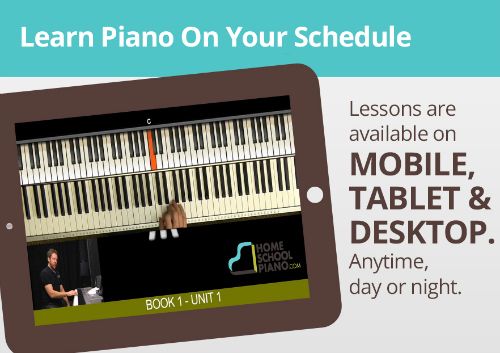 The HomeSchoolPiano program uses a 6 step method to teach you to play the piano. You'll soon come to find that each piano program has a certain methodology in the way they present things and HomeSchoolPiano starts with teaching Technique and ends with Improvisation. Throughout your lessons you will start by focusing on Rhythm, then Ear Training, Reading Music, the Song, and finally Improvisation. Some units have a Bonus Lesson.
The six steps are…
Technique
Rhythm
Ear Training
Reading Music
Song
Improvisation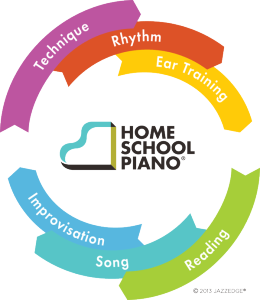 HomeSchoolPiano is a digital propduct has two payment options.
1. Success Package (One payment of $299)
Unlimited life-time access to HomeSchoolPiano along with all bonuses (downloads, jam tracks, sheet music) for up to 5 students.
2. Payment Plan (Payments of $99.97 per month for three months):
Unlimited life-time access to HomeSchoolPiano along with all bonuses (downloads, jam tracks, sheet music) for up to 5 students.
That's a pretty cool deal I think. I was able to sign up both my husband and my daughter (as my students) along with me. Since we in the midst of moving and they failed miserably in keeping up their lessons we'll be focusing on me and how I did.
Everything is downloadable.
There are four levels in the HomeSchoolPiano Lessons. Note that all the lessons are available to download as an MP4 video or an audio file.

Core Piano: For absolute beginners. This contains 33 lessons. We're talking learning the notes, how to sit at the piano, hand formation techniques, scales, chores, etc. I personally plan on going back to the beginning and doing all of the lessons from #1. There is a downloadable PDF and a Jam Track .
Book 1: Contains 6 units each containing 5 lessons and 3 Quizzes. You'll also be learning some of the basics here but using songs and at a faster pace. Also includes a downloadable PDF and a Jam Track.
Book 2: In Book 2, following the same method of Technique through Improvisation you'll learn more advanced chords, and left hand patterns with some unique songs to play.
Book 3: In Book 3 it's time to really get busy working in your scales. You'll play them in all 12 keys. Even more advanced chording and left hand patterns, things like arpeggios, and improvising on a scale. Which is very neat for making up your own songs.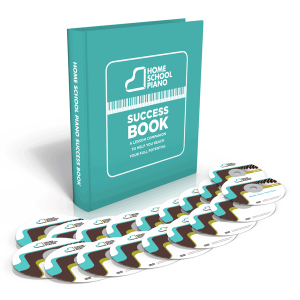 How Did I Use the Program?
You can see by my silly video above that I really get flustered when having to read left hand notes. That's what was happening here with a lesson in Book 2. If I was playing chords you would notice the immense difference but throw left hand WITH reading the bass clef in there and it's like I was just starting to play.
I was really torn as to whether start in Book 2 or Book 3. Since I've been playing piano for many years now you would think I was a rather advanced pianist but it's only my head knowledge that has advanced while my application could use some brushing up.
I always look at intermediate lessons when trying a new piano program. With this program I felt I needed to back up a bit and start in Book 2 to fill in any missing gaps. Willie covers some stuff I want to take a closer look at. Accompaniment Patterns, the Pentatonic Scale, Comping chords, and more. Basically left hand stuff I need desperately.
No matter what you hear or read online learning piano effectively does take time. You're not going to become a great pianist overnight. You may learn to play a few notes and read some basic music quickly but to become proficient you need time and practice. Daily practice is key.
Willie of HomeSchoolPiano says something along the lines (because I've forgotten his exact words) that if you apply yourself (I know, the same thing my parents said all through my school years) and practice several nights a week (so sorry I've forgotten the exact number but let's just say from my own personal experience that it's about 30 minutes 3 nights a week) you will see some real progress. I concur.
I started off by printing off the complete books for the Core Piano for my daughter and Book 2 for me and making a booklet out of them (I used my Cinch). This made it easy to take the whole books to the computer.
HomeSchoolPiano says that you can use the program on many devices. I didn't attempt to pull it up on my Kindle and I stuck to my MacBook Pro laptop. My baby (…#2). Sometimes I would have to use headphones because my family would be acting silly behind me.
We're really busy attempting to move right now but my goal was to use the program 3 nights a week.
Right away, after a week's worth of lessons, that next Sunday since practicing I (and I'm sure the congregation) noticed a marked improvement. I felt a little freer at the piano especially with my left hand. Woo hoo!
How Did I/We Like HomeSchoolPiano?

I've personally taken in person lessons, video lessons, and piano lessons from a book. I've scoured countless online sites, and have a rather expensive library of learn to play at home video courses. I've tried it all from learn to play Gospel Piano to Learn to Play Southern Gospel (remember I'm the church pianist). I even belong to a few piano message boards who's online doors I haven't darkened in a while since I could never find what I needed.
What I needed were tips to liven up my left hand playing. AND loosen it up.
The one thing I REALLY like about HomeSchoolPiano, and this is coming from an adult's perspective on learning to play, is that the lessons are straightforward. Willie teaches you the basics on how to form those fancy chords and slip them in your music, he works on strengthening your left hand so it is remarkable on it's own…okay that's more than one. And he's teaching you music theory along the way. Don't forget there are quizzes.
That has been my main point on contention with other learn to play programs. The fabulous pianist/teacher will play his or her fancy notes and then tell you to follow along without actually telling you what they are doing. And they tend to move fast! I can't tell you how many times I've screamed at the screen when trying to learn this way.
My Main Four Happy Points:

A good focus on the left hand and exercises to improve it and strengthen it.
Sheet music to follow along with.
Well paced video lessons for the visual learner.
Clear instructions for the audial learner
So what about your child and learning to play the piano? Well my daughter is (and eventually my husband will be) using this program too. She's not as diligent with it as I am right now as it is her summer break and she is not on stage each Sunday. But the lessons are short enough to keep her attention and she's started trying to sound out music from my church song books.
I know you may be thinking that kids need bells and whistles to learn to play the piano but not so. It may make it more fun or enticing for a child who is reluctant but if you or your child sincerely wants to learn to play all the other fluff is totally unnecessary.
My daughter is anxious to play from the songbooks I use each Sunday so she has her own motivation. And these lessons aren't boring. It's just that they are designed for learning not for entertaining. You'll make your own entertainment with the great music you will be able to play. How fun is it to be able to read the sheet music for a song running in your head and perform it on the piano!? Getting on the piano and practicing what you're taught is what's important.
What about learning to play piano effectively from a video?
People take piano for different reasons. You've probably heard all of the research on learning piano helps you to use both sides of your brain better and therefore do better in school. You have to be your own guide and the guide for your children but I think you can learn to play well from videos. An in person teacher is always nice for making sure you are executing things correctly and holding your body/hands right. But what if there were no teacher near you? Or something else kept you from having access to an in person teacher?
I think if you're in the market for video piano lessons for any age member of the family be sure to put HomeSchoolPiano – Complete Set of Books on your list. Looking at my collection of previously purchased material I probably would have save myself quite a bit of money about 15 years ago had they been around.
My only complaint, if there is one, was the connectivity to the online program. Since we're in the process of moving I have limited time this month and it didn't help when my videos started hanging and I would have a hard time getting through a lesson. The beautiful thing is you can download and save your lessons so I've started doing that. I'll be burning them to disc. They're not gigabytes big so each lesson only takes a few minutes to download and that's a blessing. Phew!
This is not a Christian or specific style piano course in case you're looking for that. The songs used in each unit are kinda bluesy in feel with names like "Eeka's Bouncin'", and"Wacky Men". I think Willie wrote the songs but don't quote me on that.
My plans for the future? Well I'm really happy to have this program and for life. Like I said we're very busy moving and I did not get to spend the amount of time I wanted to on this. I wanted to use the program daily but that did not happen. I fully intend to plunk back down as soon as the movers get my piano to the new house. I've browsed through the lessons and am really excited to get into Book 3 where I get to end with a jazzish version of Pachelbel Canon in D.
Yeah I'm gushing. I'm super excited. This is a gem of a program. For both my daughter and I. Sigh! Hubby will get there.
Willie Myette
Willie Myette
You can read more HomeSchoolPiano – Complete Set of Books reviews from the Schoolhouse Review Crew if you Click the green button at the bottom of this post.