Make Science Come Alive with Amazing Science a Review

I was really hoping that during our review of
Amazing Science, Volume 1
by
ScienceandMath.com
they would stick by their words to make Science easy or easier and exciting! So read on to find out how it worked out for us.
The Sweet Peanut has always liked Science. It's her mother (me) who has often felt overwhelmed by the experiments and get the ideas across in particular. You see I don't have bunsen burners or test tubes lying around. I guess I can borrow a microscope from my sister but do I have to? (Probably but I'm not ready to yet).  Sure some experiments don't require a loan for the equipment but those have seemed to be unexciting and a dime a dozen. And growing countless seeds in a paper cup can only go so far.
I want Science for a Third Grader to be interesting but not to test me. I want it to be fun but not too costly. I want it to be applicable to every day life. Well I was not to be disappointed.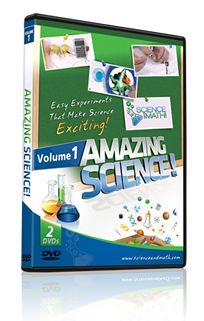 Amazing Science, Volume 1
is a set of 2 DVDs with 23 easy Science experiments that you can do, and this part is true, with many of the things you already have around the house. Sure there are some items you will need to purchase but they don't require a loan and can easily be had at your local hardware store or even grocery store.
Amazing Science, Volume 1 is geared for kids in grades 1 through 3.
You have a few options when purchasing Amazing Science.
You can get started today and download the videos for

$14.99

Or purchase the 2 DVD volume for the current price of

$17.95

which is 28% off the regular price of $24.95.
About the Experiments on Amazing Science
Each experiment on Amazing Science is relatively short (about 10 minutes in length for experiment and description/discussion) so it can easily be accomplished in one daily Science class lesson.
The experiments cover some of the basic concepts covered in elementary science such as Mass, Electricity, and Force.
Each video begins with the instructor (Jason) telling us what we're going to be viewing.
He begins by telling you what supplies you'll need to complete the experiment.
Then he sets up the experiment describing in detail what he is doing and telling us through each step what is going to happen.
At the end of the experiment Jason begins the instruction of what we have just viewed. What has happened and why in scientific terms.

How We Used Amazing Science in our Homeschool
I did not find anywhere on their website that Amazing Science is a complete Science curriculum so we did not use it that way. Since we were actually coming to the end of our regular Science curriculum when we started reviewing this DVD we've been using the experiments to better understand the different lessons we've had during the year (okay, okay and just have fun).
This was another product that I thought would be for my husband to use with The Sweet Peanut but mom got in on the action they were so fun. They like making messes together under the "guise" of experimenting so this gave them a legitimate reason to do them while I watched or video taped.
To use this video we picked a few experiments that covered various topics we had studied in Science (we study Science 1/2 of the school year). Then we would watch an experiment we planned to do all the way through and make a list based on what Jason told us we needed. Then my husband would pick up the items the next day on his way home from work and we would watch the video again and then do the experiment discussing what we were observing (you know scientists observe).
You can see the full list of experiments on the Amazing Science DVDs here.
Our Thoughts About the Amazing Science DVD?
I'm impressed. I've heard it said that to make Science make sense you need experiments, hands on activities applicable to what is being taught. I think that is true and it becomes increasingly difficult the older the students is and the more complex the topics.
I'm learning that this year we truly need the experiments and hands on activities. The topics are becoming more complex and my own student is a visual and hands on learner. Sometimes she can learn from reading about something but that only is when the concept is already interesting enough for her. With Science the interest comes after she has seen it in action.
The Sweet Peanut loves to experiment and loves to act like a little scientist. Each experiment that we have tried so far has been easy and fun (and repeated, over, and over, and over…) and yes we've had most of the supplies around the house. The few things we've purchased we've been able to pick up at the Dollar Store or for cheap at our grocery store (lemons, milk). There are a few items we had to go to the hardware store for (copper piping) but my husband relished that trip.
Even though Amazing Science says it is for 1st through 3rd grade I fully plan to use it in the 4th grade and beyond. I think it's a great way to demonstrate the concepts being taught as Jason gives a thorough explanation of what you are seeing and why.
What I would love to see is a supplies list and possibly a note next to each experiment listing what concept is being shown in the experiment. That way we could just plug the experiments into our curriculum at the beginning of the year and make sure we have all the supplies on hand.
Other than that I love it!
I'm learning a few things too. I mean how many of us actually think about the science of what is happening to the dirt and grime as we wash the dishes?
You can see the results of the first two experiments on my little video (that I had way too much fun making) below.
You can connect with ScienceandMath.com on Facebook:  https://www.facebook.com/ScienceAndMathCom