Making History Come Alive With Heirloom Audio Productions : TOS Review
We love audio dramas in this house.  With audio dramas you find yourself really using your own imagination and they can really make a story come alive when done right!
Last year we were introduced to Heirloom Audio Productions with their excellent dramatizations and now they have a new audio drama out for us.  In Freedom's Cause Single Package the story of William Wallace and Robert Bruce aka Sir Robert the Bruce based on The (Extraordinary) Adventures of G.A. Henty!
G. A. Henty was a popular author who wrote historical adventure stories during the Victorian era that really appeal to younger children and their sense of adventure.
Join now and get 60% off a Club membership. That's only $20! Limited time offer.
In Freedom's Cause, the story of William Wallace and Sir Robert the Bruce, is the story of two men who came together to win Scotland's freedom from England. Many people know a version of this story from the film Braveheart but this is the story of all that went down and William Wallace's brave fight to the end. All this happened during the 13th Century so we're deep in history here!
In our In Freedom's Cause package we received….
2 CD's containing the full In Freedom's Cause Drama

A downloadable study guide to spark thoughtful discussions with your child. Spark deep thinking, gauge how well they were listening, and enhance their vocabulary.

An MP3 of the soundtrack (downloadable)
A printable copy of the prayer of William Wallace which is taken from the Psalm 23
An a cast of Characters Road Map so you know who is saying what.
A Little Bit About the Production
So in case you've never followed along on a Heirloom Audio Production allow me to let you in on a little secret. The stories always start with two friends who are hearing the exploits and adventures of two historical men who carry the same names as the two friends (Ned and Gerald). The historical men/boys run into these historic individuals, such as William Wallace, and experience many adventures as a result. Along the way they learn about courage, faith, and other great character traits that we struggle so hard to instill in our children. (Somehow they take it better from these action stories than they do from mom and dad.)
So the first time I was hearing this I had to back up and rewind a few times to catch it.
Lesson Learned?
Don't multi-task while listening unless it's something that you can do on auto-pilot.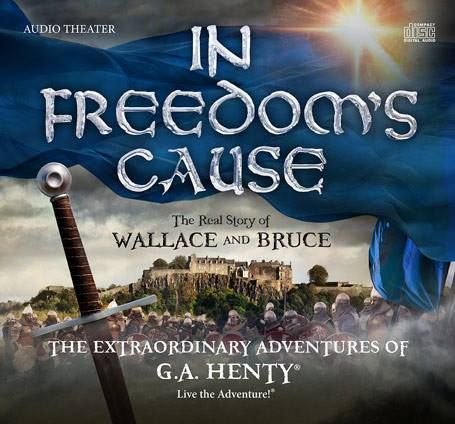 Ned and his friend Gerald go to visit new acquaintance Sir George and his room of history (that's what I'm calling it). This begins their learning of the tale of Ned, Gerald, William Wallace, and Scotland at Sir George's knee.
The story starts in Glen Klen castle as Ned's mother tells her son of the day his father was murdered by Sir John Kerr. Right away you're drawn into the time period. This stirs a fire in Ned's belly to avenge his father's death and join the fight for Scotland. Along the way Ned meets William Wallace, learns the way of the sword and eventually is instrumental in William Wallace meeting Sir Walter the Bruce the future King of Scotland.
I don't generally like spoilers so I'll just tell you that what follows are battles, tales of bravery, tense moments, declarations of faith and some intense drama. There's some heart wrenching "scenes" here.
How did we like it?
In Freedom's Cause is so well produced you are just drawn back in time into the story. This is a period in history that I acknowledge my ignorance in.  But my daughter was well aware of Sir Walter the Bruce and pulled out her encyclopedia (yes we still have a hard bound encyclopedia set) to show me where she had learned of him. So I enjoyed learning about the history between Scotland and England, being impressed by my daughter and having a few questions answered as a result.
This cast includes such accomplished actors as Joanne Froggatt, Billy Boyd, Skandar Yenes, and James Cosmo who really do a great job of bringing their characters to life. The background sounds, settings, and scenery were very life like. I remember seeing clips of how they made these noises in the olden days and let's just say they've really come a long way.
I enjoyed this production. Ned's courage, the strength of faith it took to go through what he was going through.  William Wallace's courage and motivation to find freedom for his country. The inspiration that resulted in Sir Rober the Bruce becoming king. The historic moments woven in so well and the fictional character of Ned was a great bridge to bring it all together. I'll be listening again for sure and of course this makes me want to go and read more about this historic time.
How did we use this audio program?
Well um can I say as entertaining as In Freedom's Cause is it triggered my daughter's imagination so much she couldn't make it past the 2nd episode.
In this episode young Ned is listening to his mother recant a Psalm which leads to a discussion of the night he lost his father and all it's awful details. The thought of someone losing their parent was just too much for my daughter. That and some of the details of his murder. She was sitting there with tears running down her face. So seeing the agonized look on her face and the twisting of fingers I turned it off. For her at least for now.
So know that I listened to these exciting adventures by myself and the Sweet Peanut has expresses interest in listening to them sometime down the line when she's a little older (we talked it over ). What about hubby? Well when he's home for long enough to relax then he'll enjoy them too. I'll be sharing these with extended family too.
You fan find out more about In Freedom's Cause…
InFreedomsCause on Facebook
InFreedomsCause on Twitter
In Freedoms Cause on Google+
In Freedom's Cause on Pinterest