The Beginner's Bible by Zonderkidz a Homeschool Review Crew Review
When our daughter was a teeny tiny tot someone gifted us with the
The Beginner's Bible by Zonderkidz
It was an adoption gift and back then we didn't think we would get too much use out of it because we were or are KJV only and it was kind of looked down upon to simplify things for kids in our church.
But a few days later, while trying to relate some good old Bible Stories to her, my husband pulled out the Beginner's Bible and used it to read to her. He read through the simple stories and then coupled them with scriptures from his own Bible. She loved the pictures that spoke to her young heart and cherished the time with "dada".  They had such a good time that it became a regular, daily thing.
We ended up using that Beginner's Bible for for several years and it has made it in tact to our 3 home together. My daughter still keeps it in a special spot on her bookshelf and still pulls it out for regular daddy daughter time.
Join now and get 60% off a Club membership. That's only $20! Limited time offer.
Reading through the Beginner's Bible so much we of course had a few stories that were our favorite.
Zondervan recently updated the Beginner's Bible and we got a chance to check out the revisions.
The Beginner's Bible is a small, hefty, hard bound book (7 3/4 X 6 1/2 inches) with 512 full color pages. There are over 90 Bible Stories to read to your child and have your young reader read to you.
It doesn't contain every story in the Bible but it does contain quite a few .
The Beginner's Bible is geared towards ages 4 to 6 years old and ages 6 to 8 for beginning readers.
The new updated version also contains a page titled : "My Name Is", with a blank for inserting your child's name and the phrase, "Will you please read to me? Thank you."
The artwork on the Beginner's Bible has been updated to be 3D. And on the cover they took the smile off of Goliath's face (probably a good thing).
On The Beginner's Bible website you will find Games and Activities, short videos, sticker sheets, read together sheets, ABC's of Salvation, more products (including a full text KJV version), and a Bible app for the iPad (which I need to go get) which includes more stories and games. There's a lot more so be sure and visit The Beginner's Bible Website to dig into it all.
Using this Cute Bible
Back in the day when we first starting using the Beginner's Bible as part our evening devotions with our daughter I was not enamored with the drawings. I thought they were silly. But my daughter loved them! Her little mind needed those simple drawings to get the message across.
This time around, while reviewing this book, we all happened to come down with the flu. My husband caught the worst of it and during his time of bed rest our daughter sweetly read to him to relax him so he could sleep.
I always liked
The Beginner's Bible
but I have to admit the new 3D graphics are softer and a little more pleasing to the eye. A definite improvement!
https://www.youtube.com/watch?v=29kERg4T9Vc
This darling Beginner's Bible makes a great gift for new parents, as an adoption gift (how we got our first one), or for a first birthday,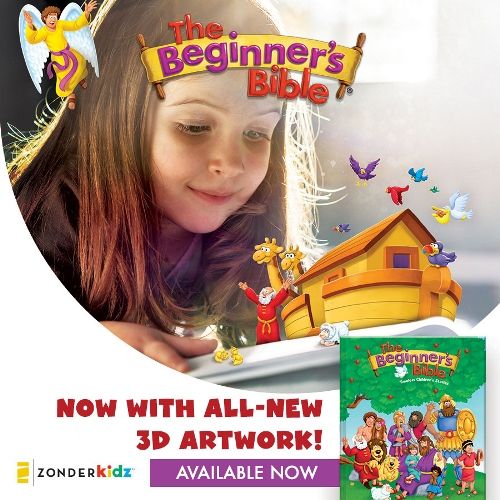 You can connect with Zondervan online…
Click the banner below to check out other Homeschool Crew Reviews of The Beginner's Bible from Zonderkidz