Writers in Residence Homeschool Review
*this post uses affiliate links

Learning to express thoughts on paper has been a bit of a struggle in our homeschool so I was excited to try and review this new writing program, Writers in Residence from Apologia Educational Ministries.
Through the years the Sweet Peanut has choked up when it came time to write reports, essays, and short stories.
As much as I would tell her to write as though she were speaking to her best friend it still was very hard for her to get her thoughts down.
Never one to be quiet in a social setting or to keep her peace when someone she knows is near she nevertheless clams up when it comes to putting it to paper.
Join now and get 60% off a Club membership. That's only $20! Limited time offer.
That's why I was excited to use the Writers in Residence curriculum.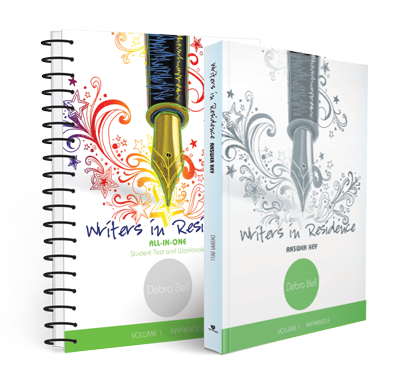 Writers in Residence is an All-in-One Student Text and Workbook heavy ring bound volume that walks your student through the process of finding their own writing voice.
Following the included 4 day a week schedule there are daily prompts and exercises pointing out the power of words.
Writers in Residence work through 4 Cycles.
I Remember : Personal Narrative
I Imagine : Short stories, poetry
I Investigate : Research skills
and I Think : Persuasive writing and opinions
We received the Writers in Residence Full set which includes the plastic coil bound book of 576 pages and a separate Answer Key.
This set is priced at $89 and geared towards grades 4 through 8.
The lessons in Writers in Residence are broken up into modules.
One to three modules may be assigned per day. Each module is some sort of exercise either of writing or grammar or research.
For example listing verbs and then using a thesaurus to find more specific verbs that can add a colorful tone to your writing.
Writing sentences of memories using a format such as the ,"When I was young…"
Or grammar work on simple predicates or simple subjects.
This curriculum is intended to cover a year or more as needed so needless to say we are just scratching the surface of finding Sweet Peanut's voice.
Working Through Writers in Residence
We are really enjoying working through this volume.  Writers in Residence, for my daughter, is not quite like schoolwork. Reliving her sweet memories and learning to write them eloquently is like someone helping her to get her point across.
At the start of the manual we got to meet (you know by reading) various Christian authors and then more specifically Bill Meyers who has written and done voice overs for Adventures in Odyssey. Adventures in Odyssey is one of my daughter's favorite audio programs so reading a bit about one of the writers is a bit exciting for her. "Oh hey he wrote that?"
Next we moved into the I Remember Cycle.  Thinking waaaayyyy back to her childhood memories (this always got a chuckle from us because the Sweet Peanut didn't have that far back to think) she is asked to find her favorite childhood memory and begin the task of writing an engaging essay using the same format as in the book When I Was Young in the Mountains by Cynthia Rylant.
The process of writing this essay included many exercises such as finding colorful nouns, and more specific verbs.
Doing these lessons in short bursts in this methodical way has really allowed my daughter to see her writings in a new light and blossom a bit in her writing.
Here is her first part of that done in Module 1.
The backstory is that this was her first trip to a beach house where we spend some time with our extended family each year. She loves dogs, well all animals, and on this first trip to her special place met two that have stuck in her memory these many years later.
                                            When I Was Young at the Beach                                                  When I was young at the beach, I discovered energetic Bella and Bruiser. When I was young at the beach I played outside with proud Bella and gigantic Bruiser.  I strolled with Bruiser and he ran fast and I fell. When I was young at the beach we saw the unfinished bedroom. When I was young at the beach we ate watermelon that was tasty on the sunny porch. And Bella was under the table trying to smell my watermelon.  When I was young at the beach Auntie collected logs and Grandma and I sat in the sunroom together. When I was young at the beach Daddy and me walked in the water, and then we went to the yard store and I got to pet the cute store cat. When I was young at the beach I had a wonderful time.                       ~Sweet Peanut
While this exercise has the student copy the module of an accomplished writer it also calls on them to draw from their dearest memories and flesh them out for the reader. This was not the end of I Remember but just the first
Since the Writers in Residence modules are so short it's easy to accomplish one each day before our regular school day gets going. It's my hope that we will continue to use this throughout this school year and into next.
There was one exercise, called the Sandbox, where the student had to create a story where they were the main character and had super powers. This was hard for my daughter. She's not a fan of fictional super heroes with out of this world powers so the best she could do was that she could do Olympic style gymnastics.  That was a hard day!
There are also several Rubrics included so that you can evaluate your student's work and give feedback.
Writers in Residence is an excellent resource to encourage your student's writing.
You can connect with Apologia and find out more about Writers in Residence online…
Facebook: http://www.facebook.com/apologiaworld
Twitter:  http://www.twitter.com/apologiaworld
Pinterest: https://www.pinterest.com/apologia/
Instagram: http://www.instagram.com/apologia