How We're Working Through Math Struggles with Everyday Activities – Mini Series -Day 3 – 5 Days of Homeschool…
*this post does contain affiliate links please preview our Disclosure Policy
Welcome back to 5 Day of Homeschool… where members of the Schoolhouse Review Crew are sharing their Homeschooling insights.
Yesterday we talked about having Patience with our sweet child's brain. Sometimes they just need a little more time to catch up to the concept.
Join now and get 60% off a Club membership. That's only $20! Limited time offer.
Today we'll talk about some of the things we do outside of the classroom to reinforce math concepts and just make it a part of everyday life, cause unfortunately it is.
Spending every day in the classroom working on math problems can get boring. Let's face it. Even I get tired of working problems on the board for hours on end. So in our home we like to take our math out into the real world. Don't get me wrong I know many parents do this so it helps if we share our techniques in case someone does something different that triggers an aha for someone else.
There are those sweet times when you cut up a pie and have a tasty lesson on easy fractions but to show how math really plays out in life we have a few other things we do with our Precious Peanut (aka Sweet Peanut).
Here they are…
Save, Spend, Give: You know what I'm talking about. When you have your child figure what they will save, spend, and give (or tithe) from their earnings or allowance.
Back when I was a little girl my mom gave us these fabulous books for doing this. They had little envelopes in them for saving. My sister's was always packed with money and mine was always empty because I had to have my dolls but still we always knew what we had and how much we could spend.
The Bottle Brigade: That's what I call it. One thing that my dear hubby has been working on with our daughter for some time is counting up our water bottles for reccyling. If you live in an area that recycles bottles you get a few cents back for them. So yeah she's in charge of water. She collects our water bottles, counts them, figures out how much she gets back total for each round of turning in and then she gets the money.
This one was started years ago when she was pretty small but it's like a nice little chore for her. I have to admit I'm kind of out of the loop on all the logistics of this one but they sit at the dining table and do a lot of figuring so sounds good eh?
Grocery Store Math: We started this one about 2 years ago.  Since we're homeschooler's my daughter goes grocery shopping with me. Always has and probably well after she's married she probably still will since I also have my own mom with us. It's a family affair.
Well about a year ago I started having her tally my groceries as I put them in the basket. Yes she uses a calculator BUT she knows my spending budget for the day and she keeps me on track. She also measures out the fruit and veggies.
In Charge of the Fruit: This latest activity is one my husband came up with. He has given our daughter the monthly fruit budget and she is in charge of buying fruit for the household.
Remember we go grocery shopping once a week so this has her doing a tiny bit of division to find out what she can spend each week.
I've also been taking the Grocery Budget Bootcamp which she watches over my shoulder.
Before our first grocery store trip with this new activity my, fruit loving, daughter would try and get me to buy every fruit that caught her fancy! She would pick up the strange ones from far away places and want grapes, apples, oranges, mangos, cantelope, bananas, EVERY WEEK! I would try and tell her I had only so much much money so she had to pick her two favorite and stick with those for a week (she eats a lot of apples so I spent the most on them).
Since the Fruit Activity, as I'll call it, she's turned over a new leaf. I will admit she did really well bringing home the fruit the first week.  She was much more selective about what was purchased!
That first week she ended up with a bushel box of apples for $5 (go girl!), a cantelope, and two mangoes.
We've had freshly made applesauce every day, an apple pie, and frozen some of the apples (nicely cut up) for future use. This has not only helped her appreciation of a dollar but given her some good skills in adding decimals, weighing object, and finding a good deal.
These activities don't make my child a math genius but they do help when it comes to figuring our word problems or decoding exactly what is being asked on that worktest. It helps when I'm teaching her and I can refer to something we're doing or done.
Another way to help with math struggles.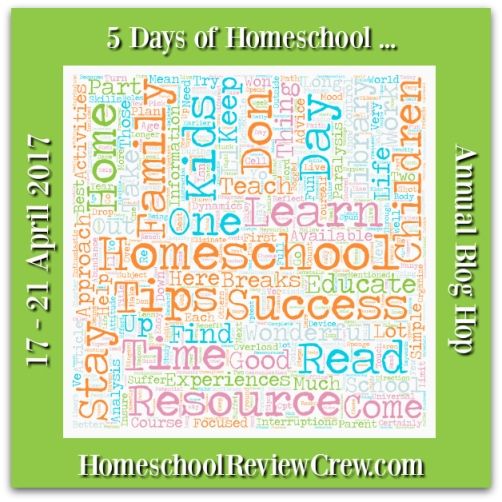 Visit some more blogs on the 5 Days of Homeschool Blog Hop for 2017