Learn Computer Skills Online with Digital Savvy {Homeschool Review}

The past few weeks
The Sweet Peanut
has been taking an online computer course we're reviewing from 
CompuScholar, Inc.
 called
Digital Savvy
.
This past year we have been thinking that rather than learning the world of computers in a trial by fire sort of way, that it would be a good idea for our growing daughter to have a little more organized education on the topic.
In the world that we live in most children grow up very comfortable using computers and all manner of electronic devices, but it's certainly better if they can learn how to use computers safely while also creatively.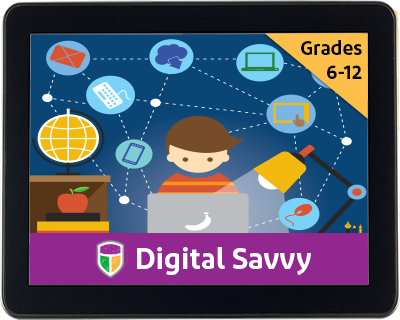 What is Digital Savvy?
Digital Savvy is an online computer course to help grow computer skills. This particular course teaches the basics of computers from how they came about all the way to finding careers that feature computers.
Join now and get 60% off a Club membership. That's only $20! Limited time offer.
Digitals Savvy is done online in a self paced atmosphere and the set-up we have is a separate teacher login and student login. I can log in and check my daughter's progress and quiz grades.
You can purchase Digital Savvy with a monthly subscription, ideal if you have a quick study student, or an annual one. You can purchase as self study option or one that is teacher led (as we have).
Find out more about Digital Savvy pricing on the website.
Digital Savvy has an impressive syllabus that covers all the basics of computers. By the way this course does not cover basic keyboarding skills and/or typing skills.
I'll list the details for you below…
Fundamentals of Computer Hardware
Fundamentals of Computer Software
Operating Systems
Computer Files
Computer Maintenance and Troubleshooting
Computer Networks
Search Engines
Computer Security
Word Processing
Spreadsheet Programs
Presentation Programs
Database Technology
Project Management and Teamwork
Mid-Term Project
Digital Images
Internet Communications
Social Media
More Social Media
Creating Web Pages
Web Page Design
Web Links, Images, and Animation
Programming Concepts
Digital Logic
Careers and Professional Skills
Team Project
We (and other members of the Homeschool Review Crew) received subscriptions to some of the CompuScholar, Inc. computer courses.
Other courses reviewed were Web Design and Java Programming
To use Digital Savvy you will need a computer with access to the internet. For our course, it is helpful to have a desktop or a laptop as you will be referring to it during the course.
Here are some screen shots of what the lessons look like in Digital Savvy.

The Digital Savvy course starts at the very beginning with the basics of, "this is a computer".  Well actually the first lesson is on Fundamentals of Computer Hardware. There is a video lesson to watch and also the same lesson in text version for those who need to read something to, "get it". After each lesson is a quiz and you have 3 attempts at the quiz, if you would like.
I attempted some lessons on the teacher led side to see how it would go. I definitely needed to study before taking the quiz.
At the end of each chapter, there is a hands-on activity which is then graded by the teacher (that's you mom) and then a final exam for the chapter.
How We Are Using Digital Savvy
I was torn when I signed up for this whether I would have my daughter take the course or whether I would take it. I was intrigued by the chapters later on in the syllabus. I ended up opting for her to take the class and then when she hits mid-term project I'll chime in :).
After some fumbling with registration, I was able to set my daughter up with access to her course. She works at it 4 days a week after regular schoolwork is done.
The lessons are quick and some of it is a recap but I'm pleased with what she is learning so far. The activities give us an option to talk more about the computer and what things do.
I think at age 12 she is the perfect age for this.  At this age she knows how to turn on a computer and get, kind of, to where she wants. But knowing what all the bells and whistles are is the work in progress.
Now she knows what all those little holes on the side of the laptop are. Or the difference between a Mac and Windows which we have been trying to get across, to no avail, forever, until now.

How Do We Like Digital Savvy
I'm very appreciative of this program at a time like this. Yeat that means I like it. I'm trying not to gush but I'm pretty excited about what this program offers. My
My mommy brain has been thinking of ways to teach our daughter more about computers and this one (which came along at just the right time) covers all the bases (see syllabus above).
It's not all bells and whistles colorful with cartoon characters so younger children might get bored with the interface. Your student should be comfortable moving around the computer and no previous programming experience is needed.
You can connect with CompuScholar, Inc on these Social Media channels.
Homeschool Programming
Facebook – www.facebook.com/HomeschoolProgramming
Twitter – https://twitter.com/HSProgramming   @hsprogramming
CompuScholar, Inc
https://www.facebook.com/CompuScholar
https://twitter.com/CompuScholar   @compuscholar
Check out other reviews of CompuScholar products by clicking the banner below.