Make Every Day Field Trip Day – Exploring Creation Field Trip Journal: a TOS Review

We've been making everyday outings into fun field trip moments with our recent review of
Exploring Creation Field Trip Journal 
by
Apologia Educational Ministries.
In our house it's Field Trip season. We tend to get in our field trips and outings from Spring through early Fall. I admit in the past we don't keep all that good of records of these outings. Maybe a few pictures and our daughter's crack shot memory but other than that very little gets written down. Ooops!
Apologia must have gotten wind of our haphazard field trips and put together this field trip journal for us.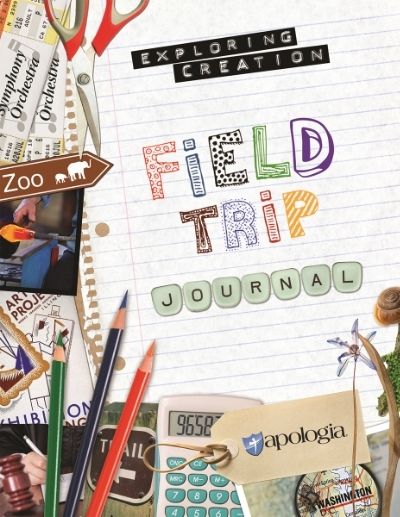 The Exploring Creation Field Trip Journal is a Ring bound book with 64 colorful pages for creating memories from your various outings.
Join now and get 60% off a Club membership. That's only $20! Limited time offer.
The Journal is priced at $22 not including shipping.
I gave the Exploring Creation Field Trip Journal completely over to my daughter and encouraged her to keep track of various outings we had going on.
The Exploring Creation Field Trip Journal is unique in that it encourages you and your child to think of every day activities as field trips. You can learn something from even outings you would never think of.
It's also very organized in helping you plan and record the regular field trips that are part of most every school experience.
The sections in the
Exploring Creation Field Trip Journal
are…
Preparing for a Field Trip
Field Trip Ideas
Places I've Explored Maps
How to Use the "Specific Trip" Pages
Field Trip Pages
How to Use "My Special Spot" Pages
My Special Spot Pages
How to Use "As I See It" Pages
As I See it Pages
My favorite section  is the Called Off the Beaten Path and Field Trip Ideas pages. These two pages will fill your field trip calendar for months' to come. Of course for some of them it's helpful if you live nearby said spot but there is also a special link included in your journal for finding tons more field trip ideas by state and also some great virtual field trips!
How We Used the Creation Journal
So far our daughter has been encouraged to chronicle…
A Dentist Appointment: Whoda thunk? We go to the denstist 2x a year but this time she seemed more aware of the trip there (we travel across state lines for this) and all the things we did afterwards (we make a day of it).
Dozer Days:  This is a local event just for kids where kids get to drive! Big rigs and working equipment. It's a lot of fun for kids and adults and she got her memories down in the Creation Journal.
Strawberry Picking: Isn't such a fun thing to do in early summer? We usually pick, take a few pics, and call it day but this year we've got our daughter's memories of what she remembers about "The Pick of 2015″We filled our freezer with fresh picked strawberries and dipped a few in chocolate for dessert.
Picking out a new hamster: This has been the highlight of her journal so far. Picking her hamster has been much more than just jogging down to the local pet store and picking the best one. It all started with her reading 2 books on hamsters, then making notes on what hamsters need (in captivity). Discussing the material needs with her father and taking a field trip to price everything out. Calculating how much money was needed and where it would come from and working extra jobs for friends and neighbors to buy the hamster (her name is Lucy by the way).

What I liked about the Apologia Creation Journal
Our daughter was actually already in the habit of chronicling her outings since her grandmother gave her a diary a year ago but  The Apologia Exploring Creation Field Trip Journal is really nice because it has laid all the journey details out. It's something the whole family can take part in. And it encourages one to really look where they live, take things in, enjoy your spot, and write down the memories.
I also really like the My Special Spot section. This is a section designed to guide your child to explore one special spot in nature year round. We just moved a year ago so I want to encourage my daughter to take notes of what is happening in her back yard. We're changing it little by little so keeping track of the changes like this will be nice to look back on.
I like how we can turn every day outings into memorable field trips. Every field trip does not have to take place in a museum (although that is nice) and the Creation Journal also encourages you to note the differences happening in your favorite spot in the different seasons.
The colorful pages and little boxes for different things invite her to be creative with every day.
We have yet to add our pictures but they're coming. I think this would be a nice thing to have a new handy at the beginning of each school year.
You can see samples of the interior pages at the Apologia website.
While her artwork may need some help her creativity is getting a nice boost as she thinks outside the box on just what constitutes an adventure.
Facebook: https://www.facebook.com/apologiaworld/timeline
Twitter: https://twitter.com/apologiaworld
Pinterest: https://www.pinterest.com/apologia/
Google+: https://plus.google.com/105053356034237782125
Would you like to read more reviews of the Exploring Creation Field Trip Journal  by Apologia ? Just click the green banner below.