Rosie's Doll Clothes Making Course Schoolhouse Review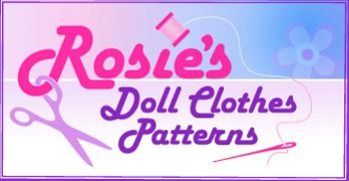 *this post contains affiliate links*
We've been having fun reviewing the Rosie's Doll Clothes Patterns product Learn How to Make Doll Clothes Video Course with 8 Free Doll Clothes Patterns.
Sweet Peanut is a very caring mom and makes sure her 18 inch dolls are dressed for all sorts of occasions so having the opportunity to make them new doll clothes is exciting for her.
What's Included
Rosie's Doll Clothes Making course is a video program that gives you over 130 step by step, and I do mean step by step, videos on making doll clothes quickly and easily for your 18 inch doll (like American Girl dolls).
Rosie sells Doll Clothes patterns also but in case you are a novice in the sewing department her sewing course will have you up and running quickly.
The Doll Clothes pattern course includes 8 free patterns which include the PDF of the pattern, detailed instructions on how to put the item together, and step by step videos for each step in the construction process.
For the basic sewing course there are 6 weeks of lessons on the basics of sewing doll clothes.
The Breakdown of the Course
The How To Sew Doll Clothes course is broken up into 6 weeks. Each week covers a different aspect of sewing starting with Setting Up Your Sewing Room (after the introduction of course).
Week 1 – Covers different types of fabrics, elastics (so important in doll clothes), different tools you may need for putting together these tiny clothes.
Week 2 – Covers patterns. How to read them. Cut them out and use them. And some troubleshooting tips.
Week 3 – Covers sewing basic stitches and hems on your sewing machine. Some tips for sewing for your doll and troubleshooting tips. Different kinds of stitching you can do and fancy hems.
Week 4 – Covers serging (if you have a serger), sewing seams and serging seams ,  creating casings (a tube in your clothing for things like elastics),and other kinds of stitches such as stay stitching.
Week 5 – In week 5 you're in the home stretch and start learning about working with elastics including troubleshooting, and putting together pieces.
Week 6 – In week 6 you're ready for the fancy stuff! Adding trimmings, and ribbons, making your clothes for all sizes of dolls and buttons!
The Doll Patterns
The 8 Doll patterns also include instructional videos for each step of the sewing process.
Patterns Included
Sport Shorts
Crop Top
Sarong
Halter Top
Summer Nightie
Hat
Pumpkin
Underpants
All come with PDF pattern pieces and basic written instructions and step by step videos on how to make the outfits as well.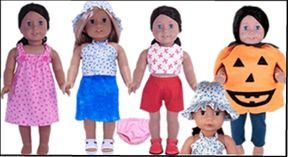 The Course costs $47.85 or $49.94 Australian.  And is recommended for children ages 8 and up (or adults have at it too). You can also purchase the course on DVD.
If you need the doll patterns in Cabbage Patch doll size then you can email Rosie and get those when you purchase.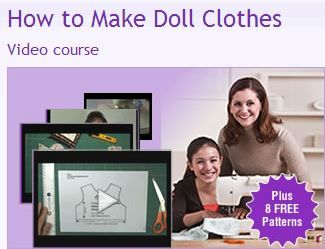 How We Used the Program
I used the How to Sew Doll Clothes course to teach the Sweet Peanut, who is 8, how to sew. She's seen me sew all her life and has expressed interest in learning. Especially when it means using a sewing machine.
We started in the beginning with the videos on setting up your sewing room and sewing kit. Then we talked daddy into getting us a new sewing machine.
I sew quite regularly and have since learning to sew in my 20's. I make the Sweet Peanut outfits now and then and I make occasional gifts. I have owned a 1970's Slant Singer for about 16 years and have been in need of a new machine for a few years now. We used this review as a great opportunity to lean on DB (Daddy Big as he calls himself) for a new machine.
After much deliberating and checking I ended up settling on the Janome Computerized Sewing Machine DC2013. I have an older Singer Slant but for delicate fabrics it wasn't doing so well. Janome comes out with a new sewing machine each year. There may be a small addition and definitely a new color. The machine sews like a dream and I love that I can slow down the speed for the Sweet Peanut.
So after gushing over the new machine we worked through the initial videos of the doll clothes sewing course and went right to the patterns and started with the Sport Shorts.
Since this was the Peanut's absolute beginning learning to sew we took every slowly. She's been wanting to sew and this just timed perfectly.
We would work through about 2 videos a day every other day after school and after going out and about. Each lesson with the 2 videos and doing the required work took us about half an hour.
Sweet Peanut has one 18 in doll, Sofia (not American Girl), and a smaller 16 inch doll Dolly Washington who was born on the 4th of July (an excuse to really get dolled up on the 4th). She also has a few other dolls but these two are the main ones who will fit these outfits.
Do you name your dolls other than what they came with? She does for some and not for others. Dolly Washington is the name my daughter came up with.
Since Sofia's been having bad hair days for the past several months Dolly Washington agreed to be the model for the shorts.
I had my daughter do everything from cutting out the pattern, fabric, and elastic, to sewing everything together on the sewing machine. I also have a  Brother Serger which Rosie does go over using to make doll clothes. We sewed on the sewing machine mostly but not the serger. We used the serger once but I then opted to let the Peanut finish with a zig zag on the sewing machine so she could get the full sewing feeling.
How I liked the Program
This was a great time for me and the Sweet Peanut. After a busy day in school and running errands we would sit together and sew. She was so excited to use the sewing machine and that was sweet to see.
I really like the details in this program. Rosie did not leave a stone unturned. She shows the many tools you can use to make sewing easier. For a beginning sewing this may seem daunting and quite expensive. I'll tell you a good way to quickly get your load of sewing tools is at an Estate or garage sale.
The doll clothes patterns is a nice package to easily put together doll outfits for gifts (which I plan to do. I plan to make several outfits for all Peanut's dolls).  The course is a great way to teach kids how to sew especially since they're sewing for something special to them. Intermediate sewers may learn a few tips along the way but may find they already know much of the information.


Check out my post on an DIY Doll Clothes Closet