Torchlighters: The John Wesley Story a Review
Have you heard o
f FishFlix
? If you're struggling to find good, clean family entertainment then you'll want to
click through to the site
and be sure to book mark it.
Members of The Schoolhouse Review Crew were able to sample a series of videos recently from FishFlix.com and our pick was Torchlighters: The John Wesley Story .
First a little bit about FishFlix.com
FishFlix.com is an online Christian video store where you can find most everything from Biblical Movies to Music Videos to Documentaries, and Entertainment (such as When Calls the Heart). It was started by a Turkish Christian who produced a film about the Apostle Paul and the Earliest Churches.  Immigrating to the US he began selling other Christian films and FishFlix was born.
The video we got to sample ,Torchlighters: The John Wesley Story, is the animated story of John Wesley who is the founder of the Methodist movement (I grew up in a Methodist church).
Join now and get 60% off a Club membership. That's only $20! Limited time offer.
Torchlighters videos is a series of animates stories about defenders of the Faith. It is produced with the 8-12 year old market in mind so even though some of the subject matter can be difficult (persecution etc. ) it's done in such a way as to keep it clean for kids but still drive the message home.
The John Wesley Story DVD came in a clamshell case in the mail. The animated show is 30 minutes long the but the DVD includes 4 bonuses including a 58 minute documentary about the start of the Methodist movement which also has some reenactment.
Other bonuses on the DVD include…
Study Guide
About the Torchlighters Series
The Voice of the Martyrs

About The John Wesley Story
This video shows John Wesley as a child who is saved from a burning fire in his home. His mom says that he is a "brand plucked from the burning" meaning he was saved to be used for big things.
Later on we see an John and his brother Charles find a saving grace in Christ at similar times in life and then come to work together to attempt to bring the gospel of everyone needing God's saving grace to the established churches. Those churches throw him out and eventually John is preaching to the very poor beggars and workers in open fields. They want to know more. The owner of a mine wants John killed for preaching to his workers but the worker pinpointed to kill him finds Christ instead. They continue to preach to the poor and down trodden. Charles goes on to write several hymns some of which we sing today such as…
Hark the Herald Angels Sing
O for a Thousand Tongues to Sing
and Come, Thou Almighty King
You can listen to and read the lyrics of Charle's hymns at Hymntime.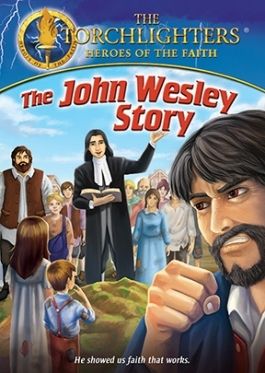 Initially my daughter and I sat down to watch this video together. My husband said he wasn't interested in a cartoon and started to walk off to his office to get some work done. He was a little hesitant in moving on and several minutes into the video he sat down with us to watch it. As you may have guessed we all really enjoyed it.
There was enough information in the story to keep us adults interested and spark further research and enough to interest, inspire, and prick at my daughter's own heart. She has a heart for missionaries so this telling of John's story really touched her.
Even though this film is a cartoon it carries a strong important message for the Christian that can be appreciate by young and old alike.
You can connect with FishFlix through social media and online.
Facebook
Twitter
Pinterest
Google
Youtube
Want to read more great reviews about videos you can pick up at FishFlix? Click the green button below.