*this post contains affiliate links

Be Prepared. This post is long!
My family and I were pretty excited to try the MyFreezEasy.com Freezer Meal Plan Membership  from MyFreezEasy.

I've tried freezer cooking in the past. Sometimes using my own recipes and sometimes using ones from a freezer cooking service or cookbook.
I was first introduced to freezer cooking from a coworker/friend over 20 years ago. She mentioned how when she cooked for her family she would double the recipe and put one meal away in the freezer for future meals! Wow what a concept! I had never thought of this! So I decided to do the same with some of my favorite (easy to cook) dishes.
Freezer cooking is when you prepare a dish as if you were going to cook it but instead of cooking it you put it in a freezer bag or a foil pan, cover and label it, and set it in the freezer for a future dinner. It's time saved.
But not all freezer meals come out right. Some stuff doesn't freeze well. And then there's my family who are rather adventurous with their eating. I've spoiled them with my love for cooking and they like to change it up quite often. Eating the same thing week after week is not fun for them (who cares right?).
But, alas, freezer cooking is such a time saver that I'm pretty much willing to try a new program that comes along hoping to find one that fits.
Sooooooo……I was extra excited to try MyFreezEasy because Erin made the extra claim that you could make 10 meals in an hour! That made it even better!  I was all over that!
See freezer cooking can be very time consuming. That was another part that took the wind out of my sails. Many freezer menu plans can have you cooking in the kitchen for several hours. I actually enjoy spending long periods of time in the kitchen BUT I don't always have that luxury and having another option for when things get busy is really nice.
About MyFreezEasy

MyFreezeEasy is on an online membership where you receive access to different menus each month. The price for an annual premium membership is $95 a year. There are other options at the bottom of the join page.
A MyFreezEasy Premium membership includes 8 different meals plans per month.
In the following categories ….
Traditional Plan – Different types of meals
Gluten-Free Plan – Gluten-free including sides
Slow Cooker Plan – Freezer to slow cooker style
Clean Eats Plan – Meals using all clean ingredients.
20 Meals Plan – Like Traditional but you get 20 meals  instead of 10
All Chicken Plan – This is 10 meals from recipes using chicken breasts or chicken thighs. When you see a chicken sale stock up!
All Ground Beef Plan – This is 10 meals with recipes featuring ground beef. When you see a ground beef sale stock up!
All Pork Chops Plan – This is 10 meals with recipes using pork chops or pork tenderloin. When you see a pork sale stock up (I severely messed up on this)!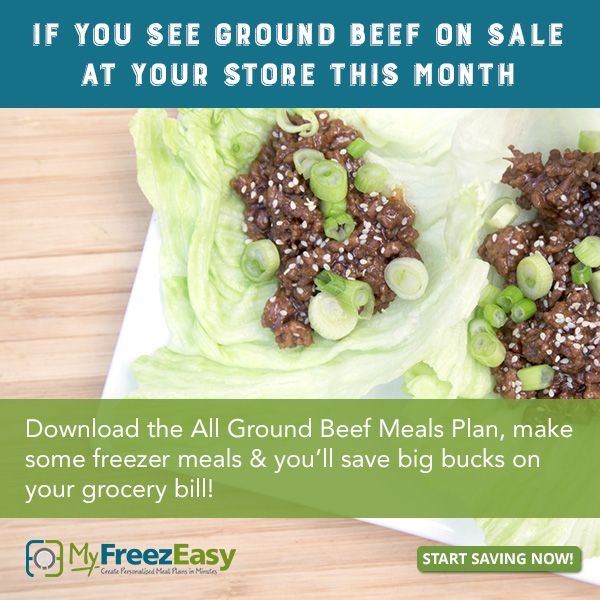 Each month you'll get 8 new menus complete with shopping lists, prep day tips, cooking tips, and labels to print out from your computer.
These are really well organized and make prep time go much smoother. REALLY well organized!
I just printed out my fourth plan so I'll go through all the forms for you.
First there is the Table of Contents with a section for the Recipes (listing them by name), Shopping Lists (there are 4), and Assembly pages (there are two).
Next come the Recipe pages. Each recipe gives the ingredients, cooking directions for a single meal, and assembly directions for 2 meals (this is where you'll know how to put your meal together for the recipe). It also includes cook time, freezing and thawing instructions, special notes, dietary considerations, and side dish suggestions.
Next comes the shopping lists. There are four; a shopping list organized by recipe, a shopping list by store department, a shopping list for just freezer prep day by recipe (no side dishes or add ons for after cooking), and a shopping list for freezer prep day by store category.
Finally there are the Meal Assembly Instructions with details on what to cook in order and what to chop and the page for Assembly by recipe.
I wish I could tell you which page is most important but really depending upon what stage you are on any page could be your most important.
I'm going shopping today and my most important page is the Complete Shopping List by Store Category. I don't know what days I'll be using what meals so I'm going to pick up any sides that will keep for a while such as rice, baked beans, and parmesan cheese.
Next there are the videos.
Each month Erin films a one hour session of herself making the Traditional Freezer Menu Plan. She talks tips, shortcuts, and how she's going to serve the meals all while keeping a steady pace in the kitchen. At the end of an hour she has 10 meals ready to go. Her prep time is actually more like 45 minutes so with practice I see the time getting shorter.
She also films shorter videos highlighting one of the other plans (such as clean eating or gluten free) and letting you know any tips or ideas there.
If you are unhappy with the meals in any plan you can swap them out for other recipes in the database. I don't know if this includes all past meals or not. My brain hasn't registered that fact but I have pulled in the ground turkey burgers and the sloppy joes into two of my menu plans.
You can also build a menu plan from scratch picking from the following categories…
Type of Protein : Chicken, Ground Beef, Other Beef, Pork Chop, Other Pork, Fish, Vegetarian
Cooking Method : Slow Cooker, Dutch Oven or SaucePan (stovetop), Baked, Grill, One Dish Meals
Dietary Preference : My Favorites (yay!), Gluten Free, Dairy Free, Gluten Free/Soy Free (I could hug her), Paleo/Whole 30, Top 8 Allergy Free
There were three things I liked about what the MyFreezEasy.com Freezer Meal Plan Membership  has to offer.
Make 10 recipes in an hour.
Varied recipes. Meaning not all dump chicken.
Fit all these recipes in your basic over the fridge freezer
I took Erin at her word of one hour and set my timer on my first go around. My plan was to use some of the meat I had frozen in the freezer (mostly chicken). That worked and didn't. Read on.
For the chicken recipes I chose, they called for raw chicken. Sometimes diced, sometimes whole. Since I would have to pre-cook my recipes after thawing my meat I chose to do a little work around and prepare everything but the chicken part of the dish and then add the frozen chicken expecting it to marinate as it thawed (based on the recipes I chose) on cook day. Now that worked!
I first tried the program by building my own menu.
Baked Crunchy Coconut Tilapia
Grilled Mango Chicken Lettuce Wraps
Grilled Turkey Burgers
Sloppy Joes
Thai Chicken Lettuce Wrap Tacos
I picked these dishes based on what I had on hand. I did have to buy a couple of things but not much at all. I hadn't watched any of Erin's videos at this time but we (hubby and I) just wanted to see how well I could fit it in the hour time frame.
I did okay. About an hour and half but all the dishes were a hit (I thought the fish was a little dry but my family loved it). The turkey burgers are well seasoned and I now keep Erin's version in my freezer.
Then I tried the following menu. Also one I built…
Greek Chicken Bake
Slow Cooker Green Chili Chicken
Sloppy Joes
Grilled Turkey Burgers
Green Pepper Chili (made with ground beef)
I ended up only making one of the Green Pepper Chili which we ate that night and then 8 recipes for the freezer in about an hour and a half. Clean up took 15 minutes. So for the first time after about 9 meals I was in the kitchen for under 2 hours. We were impressed. I was happy. My freezer had 8 dinners ready to go!
Next time we watched Erin's videos and that really helped. My family watched them with me (because we like food shows) and we got some great tips and ideas for making the recipes work for your individual family.
Next up we made (I say "we" like I had some help, ha!).
Cilantro Lime Chicken
Grilled Herb Chicken and Zucchini
Sausage & Baby Potato Bake
Sloppy Joe Sandwiches
Slow Cooker Teriyaki* Pork Tenderloin (* I have a soy allergy so for recipes calling for soy sauce or the like I use Coconut Amino acids or make my own pseudo soy-sauce).
Notice how I had Sloppy Joes in there again? This is again a plan I built. We really like those so I swapped out something from the given menu for those (sorry I don't remember what).
So far we've eaten one of everything and the favorites (including the Sloppy Joes of course) were the Slow Cooker Teriyaki Pork Tenderloin and the Grilled Herb Chicken and Zucchini which was a great way to use up some of that garden zucchini.
I still have about 8 meals in my freezer but we've been really busy since school started so I've been relying on these delicious meals to help me keep it together. That being said I'm doing another menu prep session this week. As we get closer to November I really want having dinner to be super easy.  And so far it is.
The recipes I used for today's prep session are….
Beef and Black Bean Oven Nachos
Hawaiian Meatloaf
Honey Sesame Chicken
Slow Cooker Rosemary Artichoke Chicken
Split Pea Soup
How did it go? Well..
I ended up not having enough thawed chicken on hand for the Rosemary Artichoke Chicken so I'm going to do that recipe as a same day recipe.
We had the Hawaiian Meatloaf for dinner and it was really good so I'm glad I have one in the freezer. That was requested again.
It took me about an hour and 20 minutes because I made the soy sauce from scratch (no Coconut Aminos on hand). Also I cry mercilessly when cutting onions and there were a lot in today's line up. I spent some time in the bathroom washing my eyes. It's awful! I'll never be a chef!
I found myself not really using the pre-built plans. I would look through the recipes and find ones I wanted to swap out and ones I wanted to use from most each one so it made more sense to pull together my favorites.
I haven't tried the My Favorites section yet because really my plan is to try new recipes each month (have to get off this Sloppy Joe kick I'm on).
I have to confess I didn't even glance at the Gluten Free/ Soy Free section. After finding out that some of the recipes in the Traditional Plan were also in the Clean Eating Plan I've been making my own menus since then. After so many years of adjusting ingredients I'm kind of on auto-pilot where soy-free comes in. That being said there were others on our review who did stick within the categories so if you need specifics do click our Review Crew button at the bottom and read through the other reviews.
Also Erin offers a lot of support including a Facebook group and Get Started videos to give you all kinds of help. I found it easy to just take right off. It's been a blessing!
What I Think About MyFreezEasy
MyFreezEasy came along at such a great time for my family. Back to school came with a bang along with a few other extracurricular activities. That along with helping out friends and family has really cut into my long drawn out dinner making sessions. Being able to make 2 week's worth of weeknight dinners in under two hours has been a tremendous help!
Erin does mention having a list of what's in your freezer and you'll find that to be a great idea. I have yet to make one for my meals and sometimes I just have to dig through and see what's there.
I was dreading clean up but I think if I'm more organized it can take less time. The first time I did it I had a full sink already. Not a good idea.
There's a lot I could say about MyFreezEasy but I'll end with I love it! You can click the new blue banner below to and read how my fellow Homeschool Crew Reviewers enjoyed it.
If you're finding dinner time during the busy school season to be too much of a chore. Or eating out too expensive to keep up (Did I mention that our grocery bill has gone down? Even with the bulk shopping?) visit MyFreezEasy.
Connect with MyFreezEasy on Social Media:
Facebook:  http://www.facebook.com/freezeasy
Instagram:  http://www.instagram.com/freezeasy
Pinterest:  http://www.pinterest.com/5dollardinners/freezeasy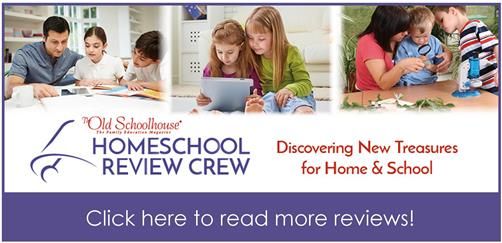 Related posts: