Rosie's Doll Clothes Patterns Just Got Better and a Giveaway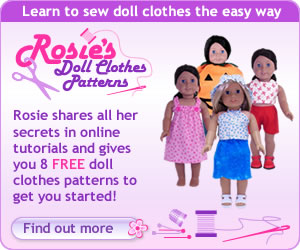 A couple of years ago we were able to review an 18 inch Doll Clothes sewing course from Rosie's Doll Clothes Patterns.
The How to Sew Doll Clothes video course offers full step-by-step video tutorials with every pdf doll clothes pattern. And these great videos don't just tell how to do each step, she shows them!
There are over  130 instructional videos for how to sew doll clothes AND 8 Free Doll Clothes Patterns which was already awesome value!
And now it just got even better!
Rosie's Doll Clothes Patterns now offers LIFETIME access to all her patterns, videos and course material.  When you purchase you have LIFETIME access to your purchases. You can read all the wonderful comments on her latest blog post.
In the meantime one of my readers will get to check out for themselves how great it is to use these patterns to make 18 inch doll clothes for friends and family (who own dolls of course!).
I'm giving away one free Doll Pattern (to be determined by Rosie herself).
Fill out the Giveaway Tools linky below.