Kwik Stix Solid Tempera Paint Crew Review and Giveaway {ENDED}

Recently we had some creative fun using
Kwik Stix 12 pk
from
The Pencil Grip, Inc.
. And the best part? No mess to clean up!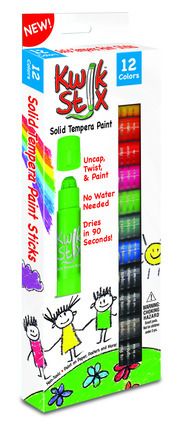 All kids love to paint. My daughter loves to pull out all the brushes, the rollers, jar of water, her smock, the special tablecloth for the table, the tarp to cover the floor. On and on. You get it. Paint can make a mess! It's great fun but the one thing that has always bothered my particular child is the mess. She would think it was great fun to get out all the supplies but once the mess started happening she'd had enough.
Kwix Stiks to the rescue
Kwik Stix are Tempera Paints that come in a twist up case, that looks like a glue stick.  They eliminates all the mess yet keeps the fun of painting.
Join now and get 60% off a Club membership. That's only $20! Limited time offer.
Kwik Stix come in 6 count, 12, count, and 96 count packages. They come in  classic set, metalix set, and neon set colors.
We were given the 12 Count Classic set colors of Kwik Stix to review. This is a rainbow of colors in an easy to use twist up case.
You can purchase Kwik Stix on Amazon.com for $11.99.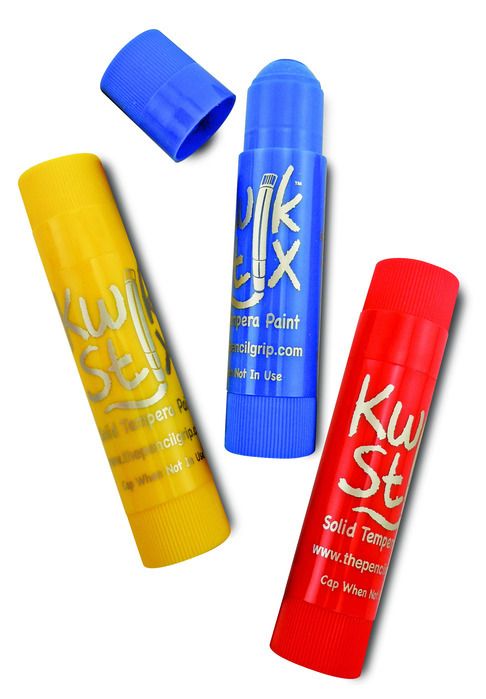 The Pencil Grip Inc. also sent us their product the Pencil Grip to try out.
This product is to improve the all important issue of pencil/pen gripping in children. Gripping the pencil in the wrong way can hinder your child's handwriting progress so it's a good thing to pay attention to.
For the first 2 years in handwriting The Sweet Peanut would spend a lesson a week on making sure her pencil was held right and her paper at the right slant.
There are different shapes to try depending upon the gripping issue and a couple of different colors. The Pencil Grip is priced at $1.79
Using Kwik Stix
To check them out we took the Kwik Stix on a recent test ride during our weekly crafting day.
We worked on Repeating Patterns.

This is a simple way of making a pretty design on paper.
This is what we did…
Take a big piece of construction paper and fold your paper again and again until you have a little square.
Unfold your paper.
On each square, with a Kwik Stix (choose your color) draw a simple design. A circle, star, half moon, square. You know, simple.
Once you've gone through all the squares repeat with a new color and a different shape/design.
We did a variation of this with a couple of larger designs in the middle.
When you're done your paper will be covered with a neat pattern and now you can use your paper as wrapping paper, to cover a book, or anything else.
From our Repeating Pattern paper we made a no glue notebook (tutorial later) to use for taking notes or even giving as a gift. It's a cute idea for kids and how we used our Kwik Stix.
Now I've got some other projects I would like to do with my daughter using the Kwik Stix. They dry fast and you can cover most anything else you would cover with tempera paint.
The Giveaway
Now it's your turn.  The Pencil Grip, Inc. is allowing me to give 1 lucky reader a set of their own 12 count classic set of Kwik Stix. Just enter the Giveaway Tools widget below.
Website:  http://www.thepencilgrip.com
Facebook:  https://www.facebook.com/thepencilgrip
Pinterest:   : https://www.pinterest.com/KwikStixPaint/
Twitter:  https://twitter.com/ThePencilGrip @ThePencilGrip