The Tale of Peter Rabbit Kinder Cottage Classic Stories Review
Don't you just love old fashioned children's books? The stories always seem to have a moral and they often speak of a simpler time. We've been reviewing
The Tale of Peter Rabbit
and 
Peter Rabbit at the Farm
by 
Kinder Cottage Publishing
for the
Schoolhouse Review Crew.
Note: the Tale of Peter Rabbit is the hard backed adaptation of the original text written by Duff Graham and published by the Henry Altemus Company in 1917. The text has been modernized a tiny bit for understanding.  e.g.- the word velocipede was used on the original texts to mean bicycle.  
In addition to their other offerings Kinder Cottage Publishing publishes a series of vintage children's tales and fables including the Peter Rabbit Series.
Fable: a short story that usually is about animals and that is intended to teach a lesson Merriam-Webster Online
The Tale of Peter Rabbit and Peter Rabbit at the Farm are each cute 5 by 7 inch hard backed books  64 pages long and include darling full color illustrations of Peter's antics along with the simple children's story.
Each little book is also priced at $4.00 not including shipping.
Join now and get 60% off a Club membership. That's only $20! Limited time offer.
The books are geared towards ages 3 through 9 but you may find adults sneaking a read when they think nobody is looking 😉
The print is large enough for an early reader and set up with print words on one page and artwork on the opposite facing page.
We reviewed 2 of the boos but as you can see there is a whole series…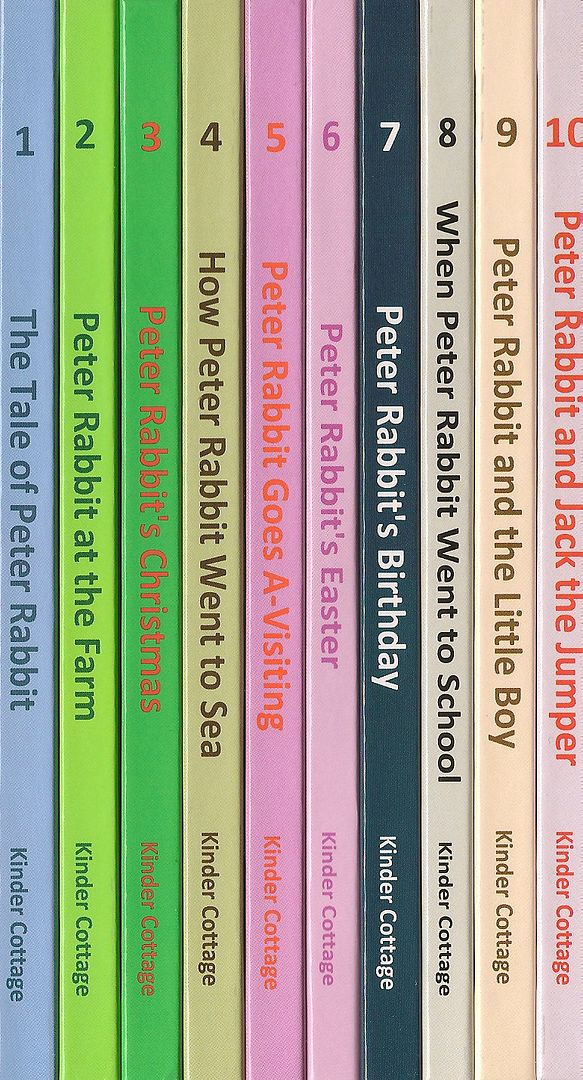 The Stories
If you don't know the tale The Tale of Peter Rabbit it is a fable where a little rabbit named Peter who lives in a sand bank with his mother and sisters, who have decidedly more rabbit-like names, out in the country. Peter Rabbit is a little mischievous and on this particular day he completely disobeys his mother admonitions and almost finds himself in the pot of the local farmer, Farmer . Because of his day's mischief he misses out the night's delicious dinner with his family. This story is a great teaching point for little children to remind them obey their parents.
In the Peter Rabbit at the Farm tale Peter Rabbit is at it again. This time he goes searching for mischief but but he also ends up having all sort of adventures with the other animals at the farm and even ends up helping a few. He rushes home at the end of the day and after a yummy dinner falls fast asleep. This one doesn't necessarily have a teaching point and may instead encourage your kids to run off looking for adventures but it is cute and all the little animal friends are a nice touch.
How We Read the Books
Peter Rabbit came at just the right time (I seem to be saying that a lot this homeschool year). Right now we are studying Fables, Legends, and Folk Tales in our Heritage Studies class and Peter Rabbit, as a Fable, makes a perfect literature study.
The rabbit, Peter, acts like a human and has a human personality. He talks, has a family, wears clothing, and he is mischievous. The results of his antics are learning adventures for children and most times having a teaching point or moral to the story.
The drawings are darling and have that vintage quality to them. Kind of a sepia hue to full color images. And they add to the feel of the story.
As I said earlier I love classic stories. They often speak of times past when things were simpler. Although a few words in these books were changed to be more modern it was not done enough to take away from the vintage feel. The two stories we got to review speak of that time long ago.
These books are darling and something I cherish now having in my daughter's library.
Classic children's stories like these make a great gift for a new mother, a young child's birthday, and an addition to your homeschool library.