Demme Learning's Math-U-See Math Curriculum Delta Level a Crew Review
My daughter is gaining new confidence in her division problems as we review the new
Digital Packs
by
Demme Learning's Math-U-See
Math-U-See's  Digital Packs  are the new online version of Math-U-See.
Like their physical counterparts Math-U-See courses are broken down by math skills (rather than grade) and work because they help your child to understand (really understand) the math concepts rather than just memorize math facts.
These Math-U-See's  Digital Pack courses have Greek names  and after an assessment test you will know which level your child is ready for.
Join now and get 60% off a Club membership. That's only $20! Limited time offer.
With the Sweet Peanut we landed in Delta which covers single and double digit division. It also includes algebra which my daughter has been excited to find out she is learning.
We had actually just finished a chapter in long division with a different curriculum but I knew the Sweet Peanut could use a refresher. She's not  was not confident there and last time we used Math-U-See it really helped her over a hump.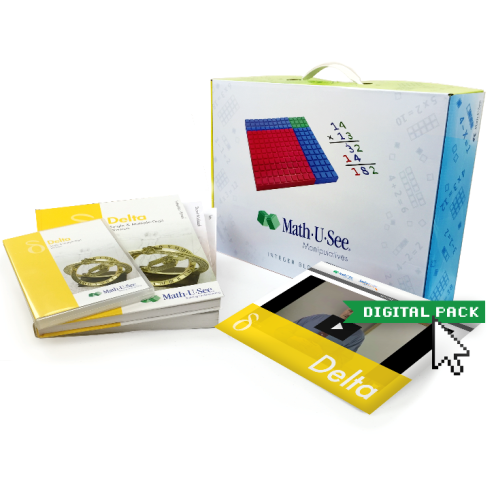 There are 7 levels in the General Math section of the
Math-U-See Digital Packs
and 6 levels in the Secondary Math which does not go by Greek Names.
The names in order are…
Primer
Alpha
Beta
Gamma
Delta
Epsilon
Zeta
Each digital pack but the Primer costs $38. The Primer Digital pack costs $31.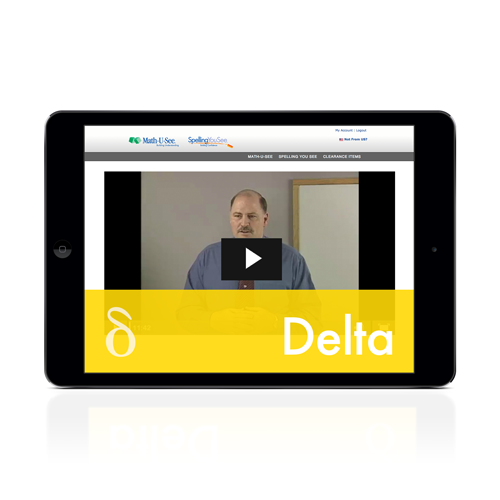 Our Delta Digital Pack includes…
12-month access to the streaming instruction videos
Instruction Manual PDFs (which don't show up until you open the introductory video).
Lesson and test solutions.
Math-U-See Digital Packs purchases also include access to their new online manipulatives. Which is a nice bonus especially if you do Math-U-See away from home. (use Safari or Chrome browser). We have some physical Math-U-See manipulatives and my daughter prefers to use those (tactical).
The student workbook and test booklet are not included but highly (by me) recommended.  While you can generate worksheets through program the workbook is nicely organized to challenge your child a teeny bit each worksheet and then give them something fun to do. And the instruction pdfs for each lesson reference the student workbook as that is how you measure how much your student is understanding.
For each lesson there are 7 worksheets from A to G. The first 3 are practice from the lesson. And the next 3 are systematic review.  You don't necessarily need to do them all but you do enough practice sheets that your student shows they understand the concept. Then you do review sheets to again show they understand and review some previously learned concepts.
The last sheet, the Application and Enrichment sheet is like a final, fun tada sheet. It shows your student not only understands but can apply the learned concept.
It's recommended to watch the introductory video before diving in. And I concur. I found  it to be the most important video of the curriculum. It gave me insight into cues I can watch for to see if my daughter is grasping the concepts. And just how the program works altogether.
How did We Use Math-U-See Delta
With Math-U-See the instruction manual states for the parent to watch the videos and then you teach your child the concepts and work through them together using the manipulatives (if needed).
The instructor is really good though and my daughter understands the concept from the simple video. I ask a few questions when it's done but I really don't want to muddle what is already excellent teaching so we move right into the worksheets.  She can move right into showing me she's got it by completing a few pages in the workbook.
We do an Application and Enrichment page on a day by itself.
We've taken  to starting our school days (after devotions of course) with the Math-U-See Digital Pack. The videos are short (like under 10 minutes) so the Sweet Pea will watch one and does a couple of worksheets.
Since we're down a computer (boo hoo!) we've been using Math-U-See Digital Packs on my iphone. This has been very convenient. We tried it on the Kindle but I'm guessing it (the Kindle) is missing a plug in or something as the videos wouldn't play.
The digital manipulatives are a nice bonus. If you use Math-U-See on the go it's nice to have that option to work out problems. We also own a pack of the physical manipulatives and she actually prefers those (tactical and all).
Starting with single digit division these short lessons have helped my daughter gain some confidence in her division skills.
Math can be a touchy subject for children. It can bring on lots of tears and frustration. The Math-U-See program allows you to tailor your child's math education based on their needs and not what grade they are in. And it's not endless memorizing, it's understanding. I've always felt that was key in getting past my daughter's math hiccups. Understanding when and what to use to solve a problem.
Now you don't hear me say this often but I'm thinking hard about adding Math-U-See to our homeschool curriculum for 2016-17.  This made my daughter jump up and down.
Want to hear how other homeschool families used Math-U-See Digital Packs? Click the green banner below.
You can connect with Demme Learning's Math-U-See  online…
Facebook: https://www.facebook.com/mathusee
Instagram: https://instagram.com/mathusee/
Twitter: https://twitter.com/mathusee
YouTube: https://www.youtube.com/user/mathusee