Learn Spanish With Flip Flop Learning – a Schoolhouse Review

Hola! We're learning Spanish this month while reviewing See It and Say It Flip Flop Spanish by Flip Flop Learning.
Learning Spanish is a goal for my family so when we were offered the opportunity to review See it and Say it Flip Flop Spanish we were more than ready to dig in. See It and Say It Flip Flop Spanish says it's designed to be used by those 3 years old to 93 years old (I guess you're out if you're 94) and that was important to us. We wanted to find a program we could use as a family. I have a bit of a background in Romance languages so I'm easily confused. My husband has never studied a foreign language. And our daughter of course is a sponge so she's the easy one.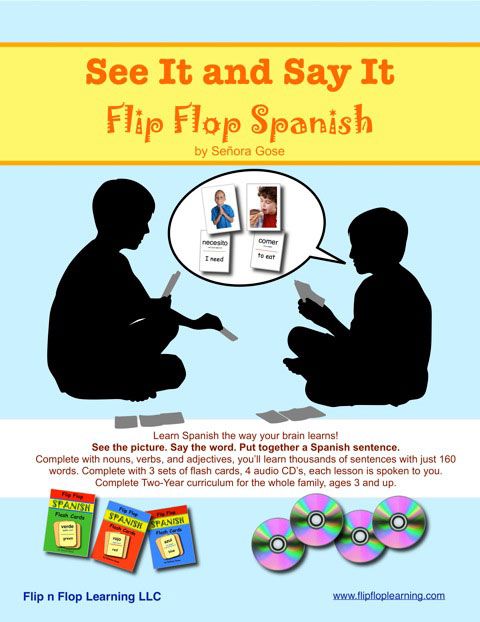 The Particulars
Flip Flop Spanish retails for $129.95 but you can purchase if from the website for $99.95
See it and Say it Flip Flop Spanish is a two year curriculum that is broken down into four semesters. There are 12 to 15 lessons per semester.  comes with…
The full curriculum in print. 150 pages.
3 sets of flash cards (total 135 cards)
4 CDs with your audio lessons
a white paddle and a dry erase pen
2 Card holder pages to make your sentences
A CD page holder
To set up Flip Flop Spanish you'll need to supply a binder, a blank notebook (or two, or three) and your CD player but that's it.
How We Used Flip Flop Spanish
To use the program you follow Senora Gose as she walks you through each lesson. You do each lesson three times during the week for reinforcement. So a lesson per week. After about 6 lessons you get a week long break.
This is the pattern throughout the curriculum. You spend 2 sessions of each lesson with the CD (the same lesson done twice) then on session 3 you, or the teacher, reads from the curriculum manual the same lesson. This probably helps to reinforce for the teacher (who is also learning Spanish).
 This is how the course begins…
In Lesson 1 you use 6 word/picture cards. You learn what the words on the cards mean by seeing the picture and touching it as you say the Spanish word.(on the back side is the English word and the Spanish word for the picture on the front). If you forget or get tripped up you can turn it over.  You also learn how to say the words by mimicking Senora Gose. The program starts with 6 word cards. 2 verbs and 4 nouns. There are pictures of the action or thing on one side and the Spanish word and English word on the other side.
Learning these 6 words you spend 3 sessions saying them and making up sentences with them. That's where your notebook comes in. You use your notebook to make up sentences and get comfortable with your new language. Of course some sentences don't make sense the sillier you are it can be rather funny.  The first two sessions are identical it's just that you're better at knowing the words and how to say them by sessions #2. On sessions #3 one person becomes the teacher and reads the script from the binder (this was me). Three lessons was perfect for my daughter, one too many for me, and my husband needed a little bit more. So what makes this good for us as a family is my daughter LOVES giving her father extra sessions while I wait for him to catch up.
In Lesson 2 more cards are added to the bunch and you get a speed drill to test what you know so far.This is also where the paddle is introduced. You play a sort of Pictionary with the paddle. Putting the cards you've been learning into the bag one person picks a card and draw a picture representing what was on the card. Then the other person has a few minutes or seconds to say the word in Spanish. I had fun playing this game with my sister who has a great sense of humor. She was able to learn Spanish when she homeschooled her son so she is fairly proficient. She drew some funny things for me to guess.
In Lesson 3 more words are introduced and a new verb also. You'll make more sentences and write them in your notebook (She says for older students but our daughter age 8 is doing this also).
It is also recommended to watch some Spanish videos, listen to Spanish radio and just expose yourself to the language. We have some great videos that we got from the library for this. Senora Gose also gives you hints on what to search for when looking for good videos.
Note: Occasionally you'll make an index card to be interspersed with your other cards. These are words that it is difficult to have a picture represent such as but or with  or and.
Around Lesson 6 grammar starts to be introduced. Molto bene! Oh wait! That's Italian (told you I was confused).
There are also various games, such as the Paddle Pictionary game introduced that you can play together to reinforce what you are learning. We've checked out some Spanish song videos and are using the little we know with more advanced family members.
How We Liked the Program

We're a small family of three with varying degrees of language skills but we were looking for a program we could use together as a family.  In addition to English I speak a bit of Italian, grew up with a mother who taught French and that makes me understand enough Spanish to be confused. My daughter has learned bits of Spanish words here and there and some Italian and French words from me. My husband has never studied a foreign language. So needless to say we needed a program that could cover us all.
What I like about this program is it brings us together as a family to work on something together. With my husband gone during the day he doesn't get to get in much on the homeschooling. Being able to do these short lessons several nights a week is a bonding time for us.
My husband's goal is that one day we'll have a dinner (with extended family) where we all have to converse only in Spanish (eeep!).
I'm also excited that these lessons seems to be working. We haven't gone through the whole curriculum yet. We're only part way through semester one but we're having fun. We are retaining what we have learned and making simple sentences throughout the day. Right now they sound silly but soon they won't. My view of See it and Say it Flip Flop Spanish? It's simple but effective.
A few lesson in and I think Flip Flop Spanish may be it.
psst! For a green option you can also purchase the curriculum as an eBook. Just visit See it and Say it Flip Flop Spanish and scroll down.
And to get more practice Flip Flop Spanish also has an iPhone app!