My daughter has been improving her reading comprehension the past few weeks as we review the online learning program Reading Eggs.
We, along with other members of the Homeschool Review Crew, were given a six-month subscription to Reading Eggs.
This includes access to:
Reading Eggs Junior (ages 2-4),
Reading Eggs (ages 3-7), Beginning Readers
Reading Eggspress (ages 7-13, grades 1-6).
And also to MathSeeds.
About Reading Eggs for Beginning Readers
For younger children Reading Eggs is designed to help them learn to read.
Reading Eggs is the base program designed to get your child reading. This is for ages 3 to 7. After taking a Placement Test your child will have a dashboard with Lessons, Spelling, Tests where they will be challenged on Letter Sounds, Sight Words, and Content Words, and even Books to Read.
Your child can write their own stories in the Story Factory, play games, shop with eggs they earn from the games, play, earn awards, and quite a bit more.
In the Family Dashboard there are even helpful resources such as
Activity Sheets that correspond to lesson numbers (does not include the Reading Eggspress lessons)
A Homeschool Reading Program for K through 2nd Grade.
The Eggsperst videos which is a series for your kids to watch that is fun but still helps their reading.
And a screen where you monitor how your student is doing in the program.
Reading Eggspress for ages 7 to 13
Since my daughter is 12 in the seventh grade we started in Reading Eggspress.
She's been saying for a few months now that she thinks she doesn't have good Reading Comprehension. Of course being mom I think my daughter is perfect but I admit there are times I realized that she didn't' get it. Didn't understand the question. Or where something she's read just did not make sense even though it probably should have.
So we started off by taking the Placement Test. You're not supposed to help your child through this so I didn't, but I did stand there so I could see what this placement test was all about. And give you feedback of course.
I really liked the questions on the Placement Test. They made my daughter think and challenged her. Okay I admit they challenged me too. It was more like did you really read this or did you skim over what you read.
The first time she took the placement test she got put into a lower reading level. I'm pretty sure she did the skimming thing. After you miss three the program bumps you out and puts you in a lower level. She said she wanted to take it again because the lessons and such were much to easy. So she retook the placement test and was placed at lesson 161 in Reading Eggspress. Reading Eggspress has 220 lessons.
Reading the Placement Test questions I could see how this would be helpful in teaching someone better study skills. Paying attention to certain details. How key words determine what is being said. I was impressed and it was only the Placement Test!
So on we moved to using the program.  On her landing page these are the sections…
English Skills aka Spelling
Stadium: Where you can play reading  games against…
The Reading Eggspress Lessons
Library: Where you can pick books to read.
Targets: These are self challenges such as book reports, reading challenges, writing book reviews and keep track of your completed tasks. This is motivating to keep your student moving through the program.
Mall: You can spend your earned points.
Apartment:
Trophy Room: Where your student can see how many trophies they've earned.
Arcade: More games
Since the Sweet Peanut is pretty focused on learning better reading comprehension skills she's self motivated where Reading Eggspress is concerned. She hops on the program after her regular lessons each day and spends about 30 minutes on it.
She's also started reading some books from the library and there is a place for her to write a small review when done (I love that!).
Sweet Peanut's verdict? She loves this program! Even though we have a full curriculum. I love finding fun things that give her a little extra practice. She's a great reader and now she's gaining more confidence in her reading and her comprehension of what she reads.
For mama, in the parent dashboard you can see how your child is doing. How many lessons they've complete. Their progress. How many books they've read. Any games played. And their Lexile Level and growth. Which is very helpful for choosing books based on reading level.
At first, I actually dismissed Reading Eggs because I thought it was for younger children but I took a chance on a trial subscription and realized that the Reading Eggspress portion might be helpful for my daughter.
MathSeeds
As part of our subscription, we also got access to MathSeeds. This math program is for ages 3 through 9. Even though my daughter is well past this, agewise, she still wants to enjoy MathSeeds (because it's fun and she can whip through it and prove how much she knows) and perhaps increase some math skills. After taking a Placement Test (which she aced, phew!) the program placed her in lesson 131.
There are not many lessons left to do to complete the program but she will still some nice practice with those dreaded word problems.
For the Reading Eggs Program there is also very colorful Parent's User's Guide to download that will help you navigate the program but it doesn't address Mathseeds. So we had to use our knowledge of Reading Eggs to figure out how to navigate within Mathseeds.
You can try Reading Eggs with a Free 4 Week Trial also.
(ends November 30th)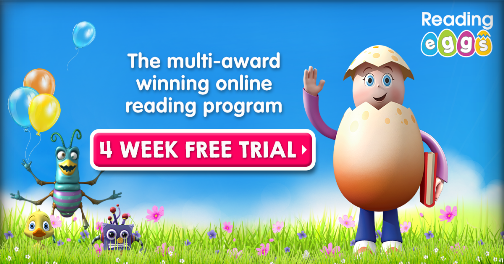 Connect with Reading Eggs on Social Media
Read more reviews on Reading Eggs from the Homeschool Review Crew