Jewelry from Zazzle Makes a Lovely Gift for Mother's Day with Zazzle
Does Mother's Day sneak up on you every year like it does me? Before I know it it's  whamo! Happy Mother's Day!
It's also one of those holidays I struggle with what to buy my mother. She and I are best friends and we talk every day. She needs something special!
This year Zazzle asked me to review and showcase an item from their collection for Mother's Day and I immediately was drawn to the delicate jewelry.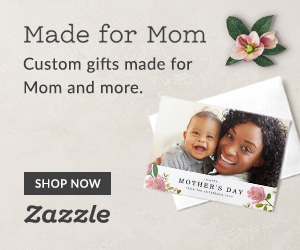 Join now and get 60% off a Club membership. That's only $20! Limited time offer.
This year I used myself as a guinea pig and since my mother reads my blog I'm instead showing something I bought myself for Mother's Day 😉
This lovely Sterling Silver Beaded Stacking Rings set by Olive Yew.
Just a few months ago a silver ring I used to wear on my right hand broke so I had the ingenious thought to replace it with this set.
It came nicely packed in bubble wrap.
The rings are pretty and delicate.
Each ring is separate so you can wear them individually or together. I prefer to wear them together.
I'm really happy with this set.
There a several pieces of lovely jewelry at Zazzle and this is just a few of them.
Finish up your last minute Mother's Day shopping at Zazzle.com
And right now you can get 15% off of all orders!