The 7 Minute Life Planner Review

Are you longing to be more organized in life? A time tested tool for getting things done in an orderly and timely fashion is
the Planner
. Dated calendars, to do lists, goals, important details all at your fingertips. Problem is there are so many planners out there. How do you find the right one for you? There are planners for your home, your family, your homeschool, your business, and more. I got the chance to review the
The 7 Minute Life Daily Planner
by
The 7 Minute Life
for the
School Review Crew
and see how it worked in helping me to organize my life. This planner came at an ideal time as we were in the process of moving to a new home and all the organizing that goes into that was almost more than I could keep up with. That along with getting ready for homeschool AND keeping up with everything else I have going on meant things were going to fall through the cracks if I didn't pull it together. Have you ever had that feeling? I actually received
The 7 Minute Life Daily Planner
  in my old home, packed it up in my to-go bag, and pulled it out in the new house where it now resides on my desk. I initially thought that I would use this planner to track my daily to-do's and what not for home, home business, homeschool. Basically anything I had going on. Same as any planner. But then I dug into the
7 Minute Daily Planner
and realized that rather than a calendar and organizer it was a planner designed to help you realize your goals. If you go through the
helpful videos
on the site you realize that
The 7 Minute Life Daily Planner
is designed help you achieve those long forgotten dreams and goals 7 minutes at a time by getting you to…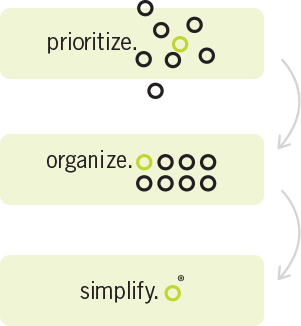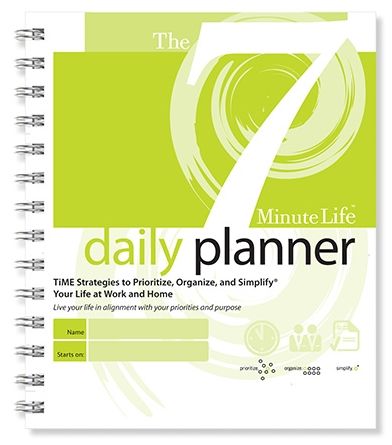 How does the planner do this?
Apparently, the average adult only has an attention span of 7 minutes. I can kind of see that. I myself am soooo easily sidetracked. Even now when I'm supposed to be typing this up my husband comes in and asks for a list for a few things. So I stop writing my post (that should not take that long) and make his list. I'm getting ready to get to typing again and my daughter comes in needing a book that is of course right next to the computer I'm using. Nevermind she's supposed to be in bed which starts a conversation about getting good sleep. So I definitely need something I can turn to that keeps me on track. But so using these 7 minutes you tackle something on your
Daily Progress Report
each day. So let's dig into
The 7 Minute Life Daily Planner
and talk about how it works. As I mentioned before this planner is geared towards adults and designed to help you manage your time and accomplish goals.
The 7 Minute Life Daily Planner
is a 7.3″ by 8.5″ physical planner that costs
$24.95 (on Amazon). 
It runs 270 pages.
The 7 Minute Life Daily Planner
has several section that include…
Unfinished Work Tasks
Daily Progress Reports
Monthly Calendar at a Glance
Annual Calendar at a Glance
Monthly Progress Report
and more
To start using
The 7 Minute Life Daily Planner
starts helping you to organize your life by finding out all about you. First there are a series of written exercises designed to help you narrow what is important to you in life. Next you list out what you enjoy doing,  what your strengths are and  what makes you tick basically. Then you take a detour to mental dump stuff taking up space in your brain before you start in on your goals. What things you do want to accomplish in the next 90 days? What are your financial goals? What are your life goals? Then you move into practical lists.
Unfinished Work and Home Tasks
Home Repair List
A Grocery List
Connections (phone numbers)
Blank Annual Calendar
Annual Projects & Tasks
Blank 90 Day Calendar pages
Monthly Blank Calendar
Meeting Planner
And what I consider to be the real beauty of this planner, the Daily Progress Report Sheets.
On the
Daily Progress Report Sheets
you're supposed to bring together all of the pre-planning information from the sections listed above that you wrote down previously and do 7 minute tasks in various sections that keep your life running like a well oiled machine.
How did I use the 7 Minute Life Daily Planner
In the beginning I REALLY struggled with filling out all the pre-planning pages in this planner. It could be because I was in the process of moving and was really frazzled but I was really anxious to get to the meat of keeping daily track. I just had to force myself to take it slow and fill out the pre-planning pages. I think due to my state, even though I got through the part about what is important in my life, it was hard to come up with any goals beyond the immediate. Pack, move, change address, etc. When I got to the blank calendars and annual tasks all I could think of to put down was school. Homeschool that is. That's all that would come out on the pages. I couldn't think beyond the near future. I needed to get ready for school. So I ended up moving past those pages and getting to the Daily Progress Report. I was really wanting to try these pages out but not all the sections would work for my daily life. The
Daily Progress Report
is 2 pages for each day in a 90 day period. The left hand contains a long list for
Daily Contacts.
A section called,
What I will do…5 before 11
,
7 Minute Life Connections
,
Unfinished Tasks
, and a personal section to track water consumption, meals, exercise, sleep, reflection, reading and a place to tick off whether you accomplished what you wanted to. The left hand of the page has a time slot section for appointments, thank you notes to write, name and number section, and a generous blank section to keep notes on. I had to tweak the planner a bit to make it work for my needs. The
Daily Contacts
turned into
Daily Prayers
. The
What I will do…5 before 11
, section became a place to put any projects I wanted to complete for the day. On the
Appointments
I listed my daily schedule. Some of the sections didn't get used at all.
 
This planner is big and juicy. There is a section for everything!
[rp4wp]
How did I like the 7 Minute Life Daily Planner
I liked good portions of this planner. I'm a planner person and use one daily. Planners work and can really help to keep you on track. The
Daily Progress Report
pages were my favorite. Especially once I tweaked them to make them my own. Particularly the section
What I will do…5 before 11
. But I found found myself all over the place with this planner. While I really like this planner I felt that most of it was geared toward the professional life with meetings, business contacts, and work place goals. As a homeschooling, work at home mom I have my life separated into 4 organizing chunks…
Family and Personal life
Homeschool
Church responsibilities
Small home business
If you see a pie chart of how my life is separated out into focus my home business takes very little. Taking care of my family and home takes up a much bigger chunk. I tend to keep two planners for just this purpose. I also use different organizing tools for homeschool and my church responsibilites get organized into my personal planner. When I'm working I have a separate planner for my work stuff and my other planner is for home and personal. There was also a grocery list template in this planner that felt a little out of place. It's pre-filled and there is only one. If it had been laminated or not there at all I would have preferred that. So even though I tried to use this planner with my home AND work life I think, for me, it would work best as a work only planner. I really like to keep my home life and work small biz life separate. I (sort of) keep office hours and being able to pull out a planner that just focuses on those things works for my system. So I've been using
The 7 Minute Life Daily Planner
 for my work stuff only. And it works really well for that. If you're looking for a planner to help you get more out of your business life I think this planner is ideal. Create reachable goals and accomplish steps to meet those goals 90 days at a time. You can find out more about
The 7 Minute Life
in the following links. Videos to help you understand how to use
The 7 Minute Life Daily Planner
http://youtu.be/k87NVdklKrI
http://the7minutelife.com/daily-planner-videos/
Facebook –
https://www.facebook.com/The7MinuteLife
Twitter –
https://twitter.com/allyson7minutes
Pinterest –
http://www.pinterest.com/the7minutelife/
Google+ –
https://plus.google.com/+AllysonLewis7/posts
You Tube –
https://www.youtube.com/user/AllysonLewis