It's Okay to Mix it Up : 5 Days of Tips for Homeschool Parents
It's day two of 5 Days of Tips for Homeschooling Parents. Where the homeschoolers of the Schoolhouse Review Crew have banded together to offer up tips, ideas, and advice to help you based on our own numerous homeschooling experiences.
This was one of those things that has taken me a few years and few tries to get the hang of. I'm talking about customizing your child's education.
In the beginning I thought I had to pick a boxed curriculum and stick with it. That the child had to bend to the curriculum and not the other way around.
Can I say I'm seasoned at 7 years homeschooling an only? Well I don't feel seasoned.  We're in our 7th year and last year we've finally started to stray. Eeeep!
Let me back up. Our core curriculum is a DVD program from BJU Press. It's great and we love it. It really works and we've had great success through the years with it. But my daughter is an individual. There is no one size fits all when it comes to her education. As great as it is there have been situations where I needed to turn to something else.
Blessedly by being a Homeschool reviewer for the Schoolhouse Review Crew we've discovered many good products to use. And in addition to realizing how good most of the BJU Press curriculum is for our homeschool we've also discovered other good products that help to supplement or even replace parts of the curriculum.
And it's Okay.
It's alright to switch out what isn't working in our curriculum for what is.
Phew!
That was hard for me to say.
I'm one of those that may stick with something that isn't working just because I've paid for it, gotten it as a gift, or just plain feel guilty.
But through the years, as I've worked with so many products I've been able to try new things and see if they are a better fit or if my daughter responds differently to them.
And believe it or not I've discovered that I did do a good thing with picking the BJU Press curriculum. I wouldn't recommend it for everyone but for our visual, audial only child learner it has really been a good buy.
It fits our daughter's learning style (and now she says she's going to Bob Jones University) very well.
We've tried some great products in the last 3 years. And it's been great to mix it up now and again. Fresh eyes, a fresh voice, a fresh way of doing something. It has all worked for good.
Things I've Learned by Mixing it Up in Our Curriculum
My daughter's learning style.
Her strengths
New ways of doings things(particularly in math)
Extra information in an area of interest (such as science)
Some Ways We Supplement Our Core Curriculum
Science: Science is great. Great ideas for experiments and great learning about the world around us. We supplement with Visual Learning Systems and online databases from our library.
Math: Math has been tricky over the years. Fact drills are great but what works best in our home is understanding instead of just memorizing. Using Math-U-See has helped us over a few humps. It's designed to help your child understand rather than just do drills.
Social Studies: What can't you use to supplement Social Studies? The world is your oyster. Books, videos, museums, field trips. We tend to dive deeper depending upon the subject. Right now we're exploring Benjamin Franklin from YWAM Publishing. I'll be reviewing that coming soon.
Another great place to supplement our curriculum with things like typing, and music lesson is Schoolhouseteachers.com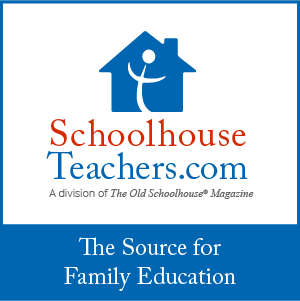 I'm not the only one one with tips to share. Here's today's list of fellow Schoolhouse Review Crew members sharing their tips for Homeschooling Parents.
Dawn @ Double O Farms
Dawn @ Guiding Light Homeschool
Debbie @ Debbie's Homeschool Corner
Desiree @ Our Homeschool Notebook
Diana @ Busy Homeschool Days
Diana @ Homeschool Review
Elyse @ Oiralinde: Eternal Song
Emilee @ Pea of Sweetness
Erin @ For Him and My Family
Jen @ nut Grove Academy