Circle C Stepping Stones a New Andi Book Series for Young Readers – Homeschool Crew Review

There's a new Andi series in town!
It's called the
Circle C Stepping Stones
 by 
Kregel Publications
and
Susan K. Marlow.
 These are great books for children and we recently were blessed to be able to the review the first 2 titles from the new series.
Andi is 9 in this series and has plenty of adventures in store. These books are
My daughter is soon to be 12 (and a fan of Andi). She might be a teensy bit old for this Andi Carter series but she enjoyed these books and they make great reads for 7 to 10 year olds (and 11 year olds who love Andi).
Following reviews by The Sweet Peanut ~ 11 Years Old 
Join now and get 60% off a Club membership. That's only $20! Limited time offer.
And Saddles Up is 112 pages and in paperback form.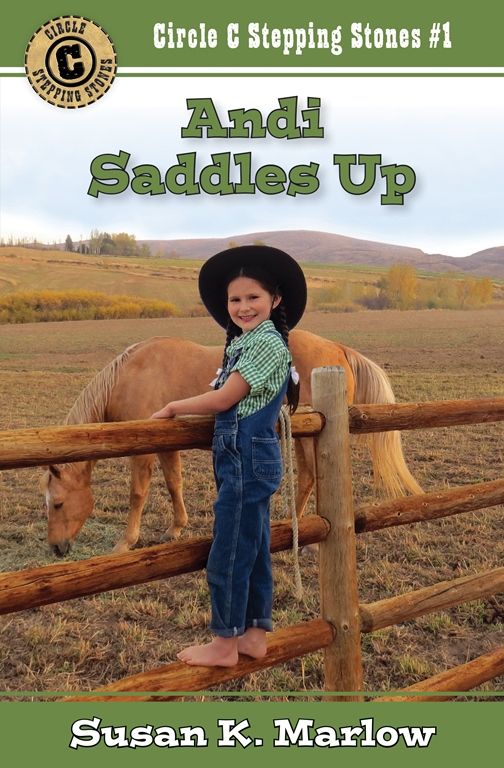 Andi Saddles Up:
Andi wants a new saddle for her birthday. She is turning 9. She also wants to do tricks on her horse named Taffy. Her older brother Chad will not let her because it's too dangerous. Meanwhile Mr. Holster owns Circle C. Ranch where Andi's family lives. Chad gets into a quarrel with Mr. Holster over the land while Andi becomes friends with Mr. Holster's daughter Sadie. But the two men quarreling comes between the new friendship of the girls. What will happen? (we want to leave you hanging here so you will want to get the book for your children).
Sweet Peanut addendum: Andi's family are Christians
And Under the Big Top is 105 pages and also in paperback form.
Andi Under the Big Top: In the summertime the circus comes to town.  Andi meets a boy named Henry. He works at the circus but he's actually a runaway. He doesn't like to plow his uncle's fields so he runs away to join the circus. But he's not able to get out of the circus because he has a mean boss who won't let him go. One night Taffy (remember the horse) disappears! Who took Taffy? (cue music)  Read the book to find out.
How did The Sweet Peanut enjoy these books?
My daughter really enjoyed both Circle C Stepping Stones books. She read them by herself and devoured them in one day and we have plans to buy some for a younger friend who just had a birthday (I know we're late. Can't be helped.).
I really like it that through reviewing the Andi Carter books my daughter has found an author, and character that she looks forward to reading and can grow with.
Both titles offer a free study guide available on the website for free download. These include reinforcement questions, vocabulary words, printable bookmarks, activities, and background information for each chapter.
You can connect with  Circle C Stepping Stones by Kregel Publications and Susan K. Marlow on the following Social Media channels.
Twitter (Kregel Books)  
Twitter (Susan K Marlow)
Facebook (Kregel Books) 
Facebook (Susan K Marlow)